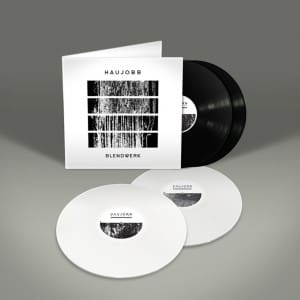 Artoffact Records will be releasing the newest Haujobb album "Blendwerk" as double vinyl by the end of this year. "Blendwerk" is Haujobb's 8th studio album in 22 years and their 2nd in the last decade. This 2LP vinyl comes in a deluxe textured gatefold vinyl sleeve including MP3 download codes. Side D includes 4 bonus tracks not available on the CD edition.
150 copies come on solid white vinyl (you can order them right now here), but a black vinyl edition is also available (you can order them right now here). If you want to get both version at a discounted price, than make sure to check out this offer! Order now before this item gets sold out (which it well).
Haujobb is the duo consisting of Daniel Myer and Dejan Samardzic.