Greenwashing in the music industry? We checked it out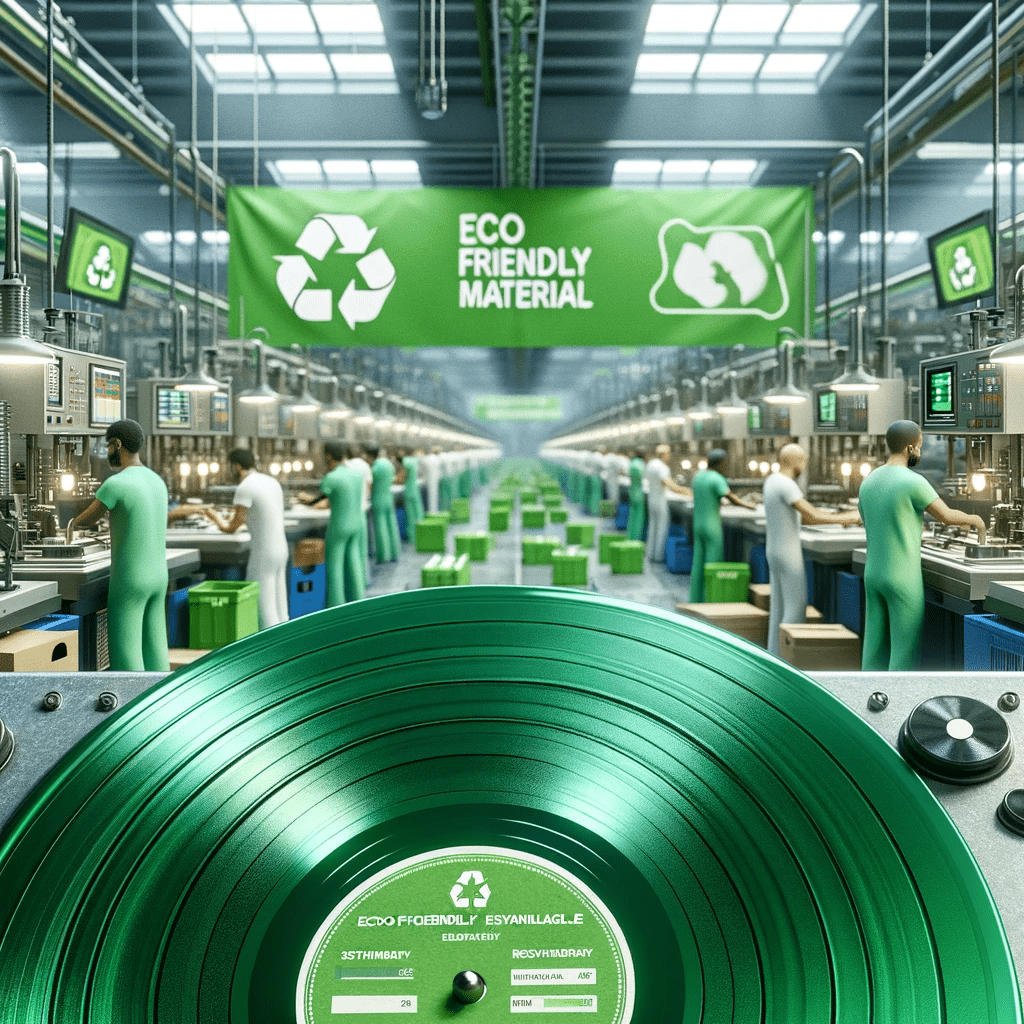 Greenwashing in architecture happens a lot, but what about the music industry? It's an issue, as a growing number of companies claim eco-friendly practices while possibly engaging in environmentally harmful activities. The production of physical media, energy use during events, and merchandise manufacturing are areas where transparency is vital. Fans and artists alike are pushing for genuine sustainability efforts, scrutinizing claims to ensure that eco-friendly messages aren't just a marketing ploy but a reality.
We'll check into 3 products that have eco-friendly solutions and will check if festivals are really so eco-friendly as they claim to be.
Bio vinyls in the music industry, the real solution or greenwashing?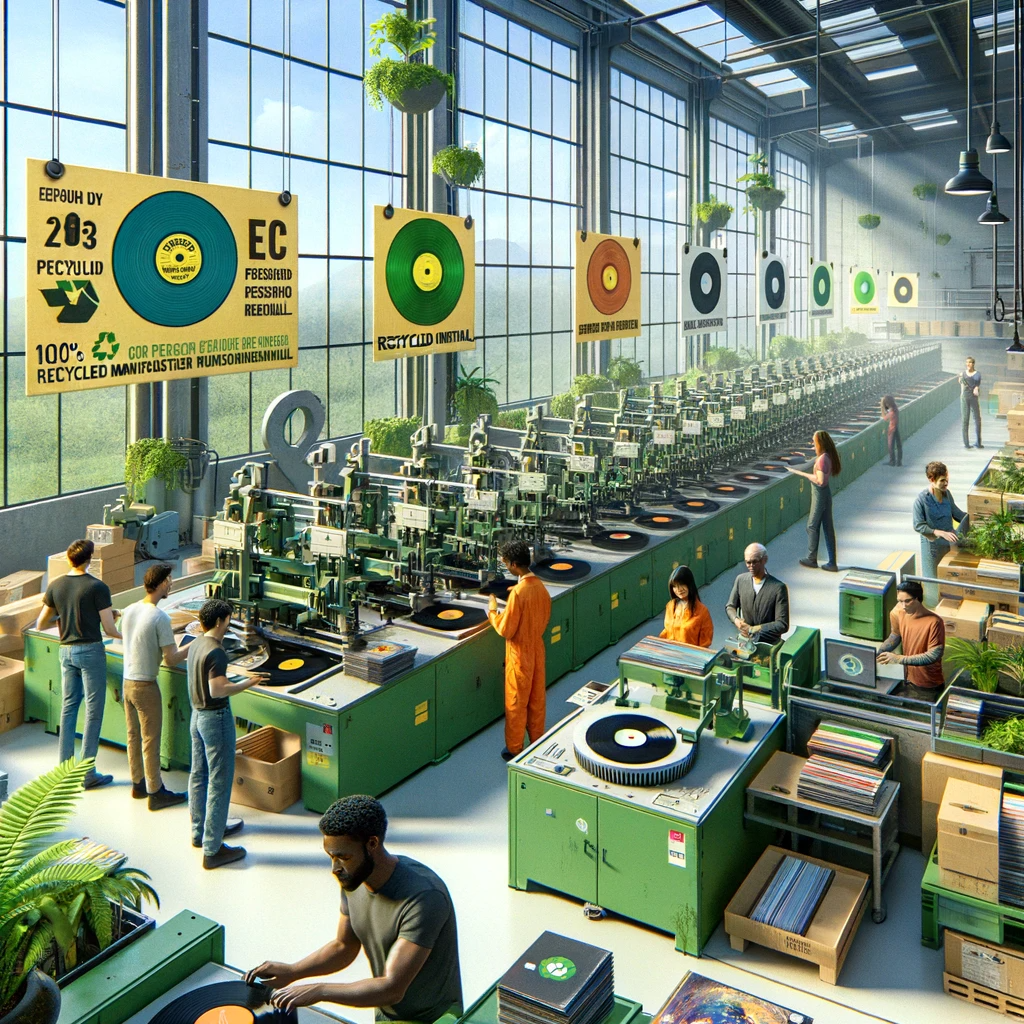 Traditional vinyl is made from PVC, which is derived from fossil fuels, and the entire process is environmentally damaging​​. A fact. Bio-vinyls produced with reused PVC represent a step towards sustainable practices in the music industry. The production plants basically aim to reduce the environmental footprint by recycling materials that would otherwise contribute to waste. However, the effectiveness and the true environmental impact of these bio-vinyls often are questioned by the eco lobby. Are these practices genuinely sustainable or do they simply serve as a band-aid solution that allows the industry to appear green without making significant changes.
Bio-vinyls, like the ones produced by Optimal Media in collaboration with PlastChem, are an innovative step toward sustainability in the vinyl record industry. Their BioVinyl is made from bio-based PVC, which uses recycled cooking oil or industrial waste gases instead of petroleum, leading to significantly reduced CO2 emissions​​. All good news? Well, you also have to look at the entire production lifecycle. For instance, the PVC granulate used for pressing vinyl can release highly toxic chlorine-based chemicals, from production to disposal. Even eco-focused plants like Deep Grooves acknowledge that while they strive for sustainability, some aspects like the granulate still pose challenges. They actively seek out the most eco-friendly granulate and employ eco-methods even for special patterns and limited editions​​.
With vinyl sales increasing, or better getting a revival, the impact of their production and distribution on the environment is significant. But some plants go even further and have invested in technologies that reduce reliance on electricity or fossil fuels, like the steam presser from Vyril used by Smashed Plastic in Chicago​​. Initiatives by pressing plants and companies like Optimal Media and Deep Grooves show a promising direction, with a shared vision to reduce the environmental footprint of music production and distribution.
What about the cost?
Introducing sustainable practices like the production of bio-vinyls does often come with financial implications. The research and development of alternative materials, obtaining certifications like ISCC PLUS, and implementing greener manufacturing processes can increase production costs. However, the long-term benefits, like reduced environmental impact and appeal to environmentally conscious consumers, can potentially offset these initial expenses. Moreover, as demand for sustainable products grows and technology advances, the cost of eco-friendly alternatives may decrease over time.
Bio-based vinyl compounds, which include bio-based plasticizers, could be more cost-effective than traditional petrochemical-based vinyl. Teknor Apex's BioVinyl flexible vinyl compounds, for example, use these plasticizers, which have shown greater efficiency than traditional plasticizers, reducing the amount of plasticizer needed per pound of compound, which can lower costs​​. This efficiency, coupled with the reduced carbon footprint of BioVinyl compounds, suggests potential cost benefits over traditional vinyl production methods.
Despite this, it's important to note that transitioning to these more sustainable materials can involve upfront costs for research, development, and certification. The overall cost implications would likely depend on factors such as scale of production, technological advancements, and market demand for sustainable products. It seems that while initial costs may be higher for setting up eco-friendly production, the long-term savings and benefits could balance or even outweigh these initial investments.
Eco-friendly produced CDs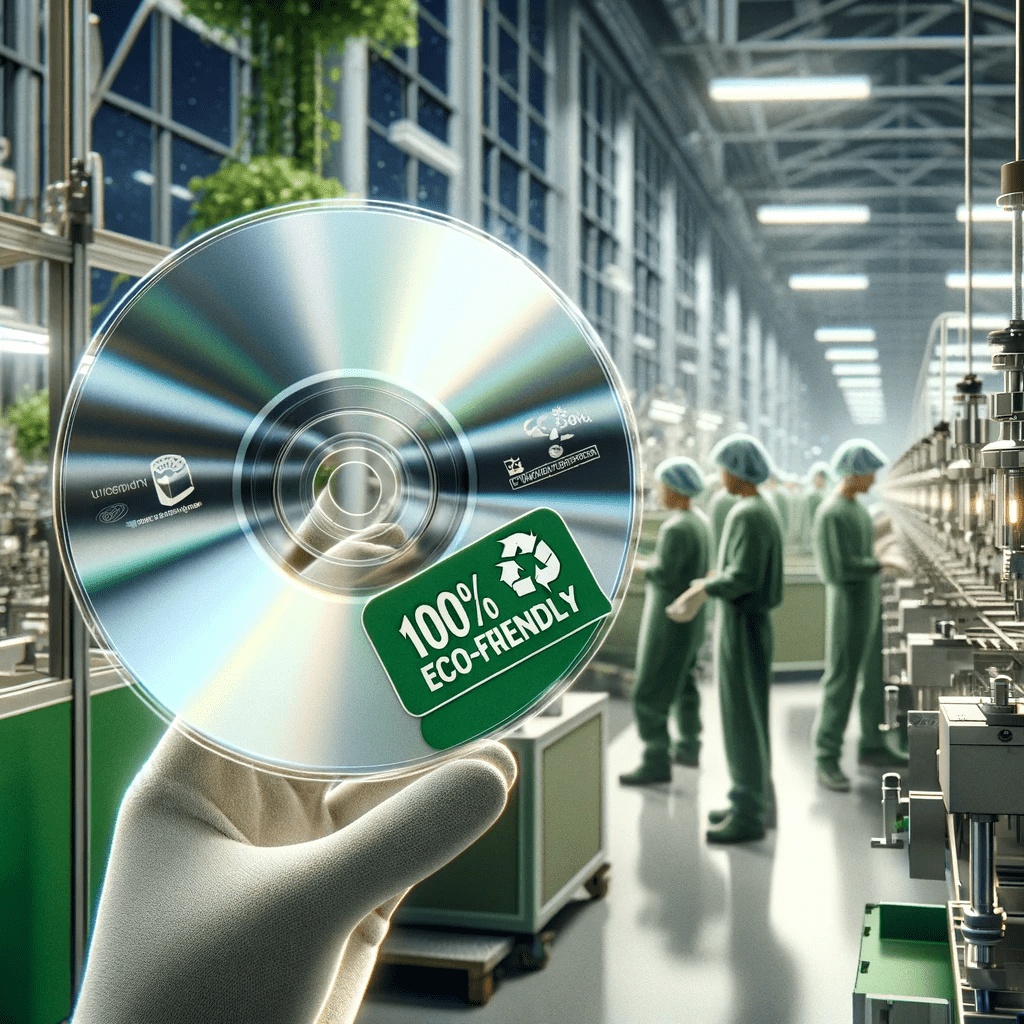 Eco-friendly alternatives for CD production are also available, focusing on reducing carbon emissions and environmental impact. For example, Breed Media offers a range of manufacturing and packaging solutions with minimized environmental impact, including the Digifile for more sustainable CD and DVD packaging. This option reduces carbon emissions by up to 80% compared to traditional CD jewel cases and uses FSC certified sustainable card, vegetable-based inks, and non-toxic, water-based varnish. Their products are 100% recyclable and produced with environmentally-focused ISO-certified methods​​.
What about the cost?
Again, the shift towards sustainability often comes with a premium due to the materials and processes used. However, these costs could be mitigated over time as sustainable practices become more widespread and efficient. If you're considering such alternatives for CDs, it's worth exploring these options further with manufacturers who specialize in eco-friendly production.
Eco-friendly produced T-shirts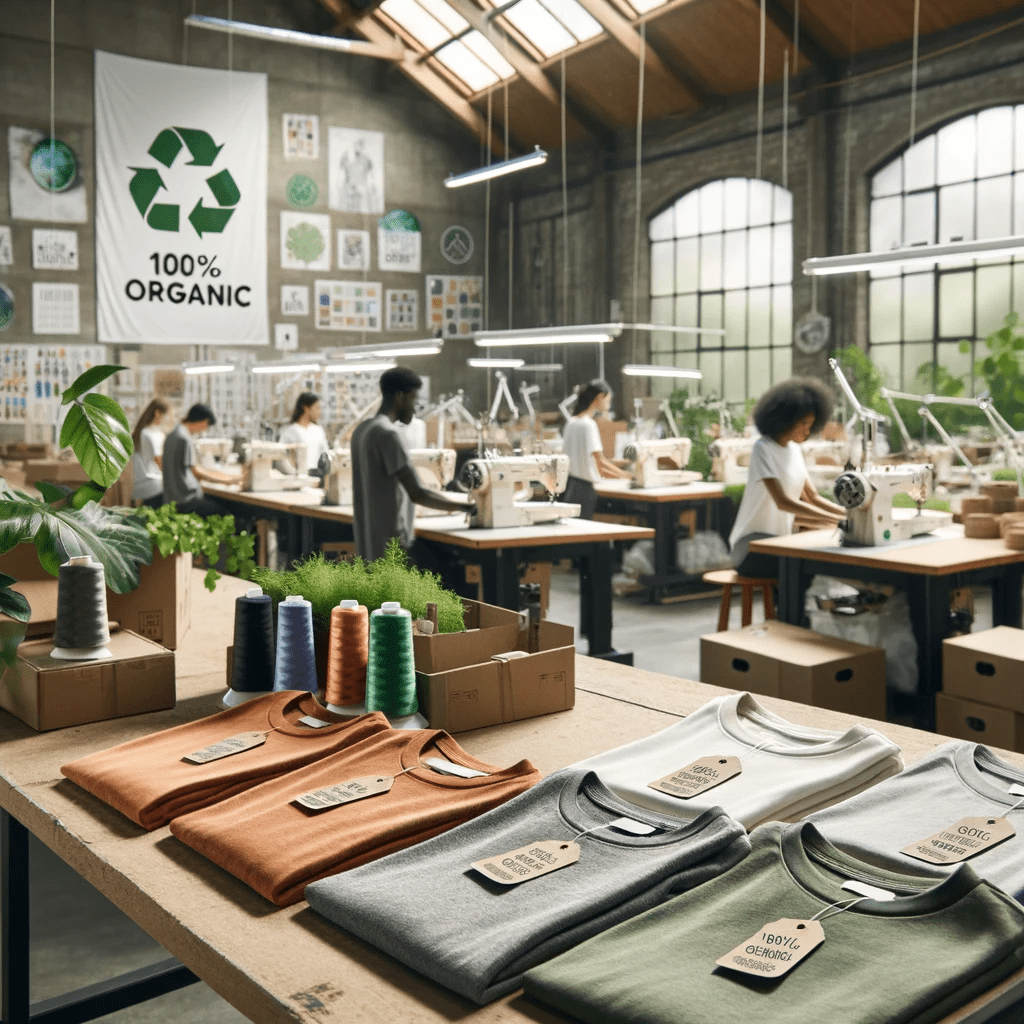 There are eco-friendly options for T-shirt production as well. Companies like No Nasties and The Good Tee are at the forefront of this movement.
No Nasties offers T-shirts made from 100% fair trade and GOTS certified organic cotton, using non-toxic dyes. They ensure their entire supply chain, from cotton farming to manufacturing, is sustainable and they contribute to the community by planting trees and supporting local initiatives​​.
The Good Tee also uses 100% fair trade and GOTS certified organic cotton, AZO-free non-toxic dyes, and incorporates materials like coconut for trims and buttons. They trace their supply chain transparently, ensuring ethical labor practices and use biodegradable packaging for shipping. As a Certified B Corp, they're committed to meeting rigorous standards of social and environmental performance​​.
Both companies exemplify a growing trend in the apparel industry to reduce environmental impact through sustainable practices, from the sourcing of materials to the manufacturing processes and beyond.
What about the cost?
The cost may be higher compared to standard T-shirts due to the more sustainable production methods and the higher quality of materials used.
Greenwashing rampant with concert organisors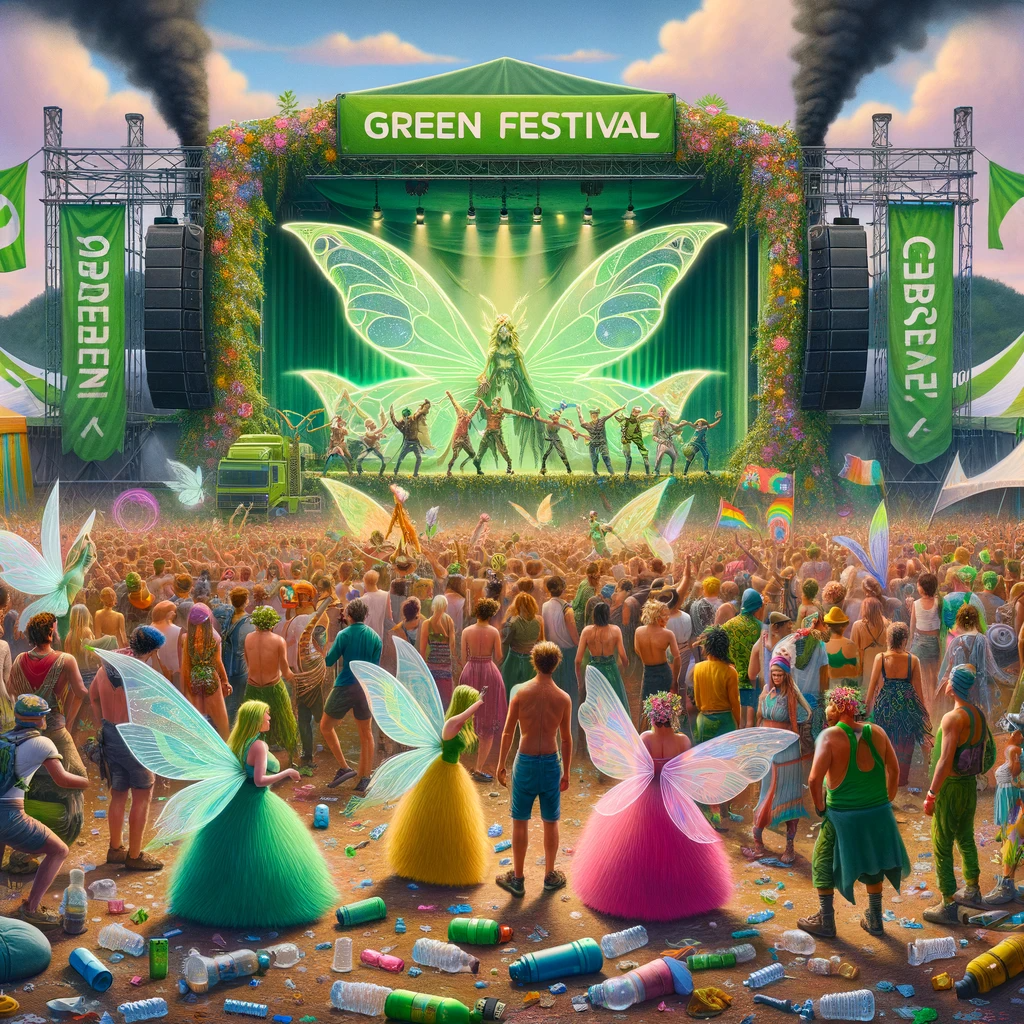 Accusations of greenwashing have been raised against music festivals and venues. Activists and scholars have criticized some festivals for greenwashing and lack of transparency over their sustainability data. For instance, major events like Tomorrowland have been called out for their large carbon footprint due to audience travel, which significantly outweighs the carbon emissions from waste produced at the festivals​​. Despite efforts to promote green initiatives, the reliance on diesel generators and the extensive carbon footprint from mass transit raise questions about the effectiveness of these measures​​.
Furthermore, data on the actual environmental impact of festivals is scarce, making it difficult to hold them accountable. Only a small portion of festivals have been found to calculate their carbon footprint, and while innovative tools for better measurement and CO2 calculation are becoming available, the actual implementation is still in the early stages​​.
Criticism has also focused on the need for festivals to enforce their sustainability initiatives rather than just promoting them, highlighting the importance of action over appearance​​. The accusations of greenwashing suggest that more concrete actions and transparency are necessary to achieve genuine sustainability in the music industry.
But, some music venues and festivals are already implementing a variety of eco-friendly initiatives to reduce their environmental impact:
EarthPercent by Brian Eno: This initiative aims to support the music industry in transitioning to more sustainable practices. Brian Eno, a prominent figure in music, launched EarthPercent as a means to provide a simple way for the music industry to fund actions addressing the climate emergency. The initiative suggests donating a small percentage of revenue from various aspects of the industry to support climate-related projects.
International Music Summit's Eco Badge and Eco-Tax: IMS introduced the Eco Badge initiative to incentivize attendees to use sustainable means of transport, offering discounts to those who could prove eco-friendly travel. Moreover, an eco-tax applied to delegate badges helps fund environmental efforts, such as beach cleaning. They are also working towards an environmentally friendly stage setup for their prominent Dalt Villa event, acknowledging the importance of sustainable practices in even the most visible parts of their operations.
A Greener Festival's Role: Acting as a pioneering force for sustainability in the music industry, A Greener Festival offers education, resources, and recognition through awards for festivals moving towards eco-friendliness. Their Greener Festival Awards have seen an increase in applications, indicating a growing commitment across the industry to sustainability.
The benefits are quite important though.
Cost Savings: Energy-efficient systems and waste reduction programs, while initially expensive, can lead to significant cost savings over time. The investment in green technology can offset the initial costs through reduced energy and maintenance costs​​.
Reputation: Venues with strong sustainability initiatives can enhance their reputation, attracting environmentally-conscious clients and attendees​​.
What about the costs
Implementing eco-friendly measures in music venues and festivals comes with both costs and benefits:
The challenges:
Initial Costs: Eco-friendly designs and initiatives often involve significant upfront investment. For instance, installing solar panels, setting up waste recycling systems, or purchasing biofuel generators can be expensive. Such costs may be a barrier, especially for smaller venues or festivals with limited budgets. The return on investment for these green technologies can take several years to realize, necessitating long-term financial planning.
Resistance to Change: Stakeholders, including investors, sponsors, and even attendees, who are accustomed to traditional practices may resist changes necessary for sustainability. This resistance can stem from a variety of concerns, such as the fear of increased ticket prices, changes in the event experience, or simply the inertia of established ways of doing things. Overcoming this resistance often requires education, clear communication about the benefits of sustainability, and sometimes, compromises in the short term to achieve long-term goals.
Regulatory and Standards Modification: Compliance with existing regulations and standards can be a hurdle in implementing sustainable practices. For example, building codes may not accommodate innovative eco-friendly designs, or local waste management regulations may not support the type of recycling initiatives a venue wants to introduce. Navigating this bureaucracy can be time-consuming and costly, and may require venues to advocate for changes in local or regional policies, which is a process that can take years and involve extensive lobbying efforts.
Lots of good things happening, some other aspects seriously need an eco-upgrade, especially in the festival sector.
Since you're here …
… we have a small favour to ask. More people are reading Side-Line Magazine than ever but advertising revenues across the media are falling fast. Unlike many news organisations, we haven't put up a paywall – we want to keep our journalism as open as we can - and we refuse to add annoying advertising. So you can see why we need to ask for your help.
Side-Line's independent journalism takes a lot of time, money and hard work to produce. But we do it because we want to push the artists we like and who are equally fighting to survive.
If everyone who reads our reporting, who likes it, helps fund it, our future would be much more secure. For as little as 5 US$, you can support Side-Line Magazine – and it only takes a minute. Thank you.
The donations are safely powered by Paypal.