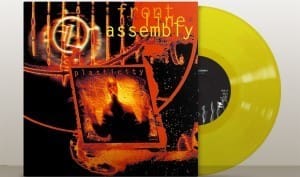 Out by the end of July is "Plasticity", probably the definitive Front Line Assembly song, but allas, it never appeared on an album. "Plasticity" was released in 1996 following "Hard Wired" and featured two versions of "Plasticity" including a remix by Haujobb. The B-side was the track "Replicant".
Today, nearly 20 years later, Artoffact Records reissues "Plasticity" on 10″ vinyl. The tracks from the single have been remastered and the artwork has been restored to produce a good quality sleeve. Side A contains "Plasticity" and "Replicant" while Side B contains two "Plasticity " remixes by Haujobb. The second one is a long-lost almost never-heard remix by Haujobb, called "Dope Experience". This very rare remix has also been restored and remastered and was constructed by Daniel Myer in the mid-90s.
The Plasticity 10″ is the definitive "Plasticity" collection; remastered, including a bonus remix, and with large-format Dave McKean artwork.
You can order your versions right here: