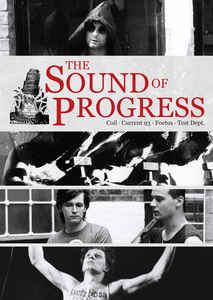 Here's a release, which although being released already this August, hasn't gotten enough attention to our taste. Released via Cold Spring and available right here for ordering, this DVD is the official release of the infamous 1988 film "The Sound Of Progress", directed by Alexander Oey. The film has been completely remastered / authored from the original master film stock for the occasion.
The documentary itself shows the mindset of the some of the most original and influential artists of the experimental scene. An unprecedented insight into the workings, the methods and the ideas that made these names legendary. Filmed in Hamburg (at Neu Konserwatiw/Israelhalle), Amsterdam (at Paradiso and De Olyphant) and London (Sam Therapy) and featuring Coil, Current 93, Foetus, Test Dept..
It aired for the first time on the Dutch TV Videoline program in 1988 and combines interview and performance footage of Coil, Current 93, Foetus and Test Dept. All in all 40 minutes of material. Note that Test Dept. were filmed in a deserted harbour area of Amsterdam where empty buildings were used for concerts and performances. One of the buildings was called De Olyphant, named after the name of the street, Levantkade (now a renovated neighbourhood). They were interviewed just before the concert in the same place. Coil was filmed at the home of Peter Christopherson and John Balance (Chiswick, London, England) in 1986, and inside Sam Therapy studios during the recording of "Horse Rotorvator". The interview with John Balance and Stephen Thrower was in the courtyard of the studio during a break from recording, 1986.
The DVD includes a 6-panel folded insert with notes and images. Below is a trailer for the film.