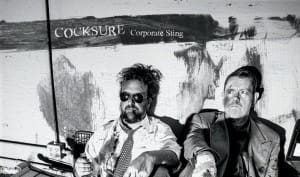 Out by mid-August is the brand new Cocksure album "Corporate_Sting". Cocksure consists of the duo Christopher J. Connelly (Ministry, Revolting Cocks) and Jason C. Novak (Czar, etc.). The release comes after 3 separate releases on 3 different labels for Cocksure in 2014. "Corporate_Sting" delivers 10 tracks offering industrial punk including also a cover of a classic 30-year old Severed Heads tune.
The album also includes a guest 'memo' written by Duane Swierczynski, author of "Severance Package", "The Blonde" and a writer for the monthly Marvel Comics series Cable, plus photography by Black Pearl Photo.
Written and produced by Connelly and Novak at the Cracknation Studios, "Corporate_Sting" will be out on CD (order here) and vinyl (available here).