'Click Interview' with The Seven Whores Of The Apocalypse: 'The Name Is A Nod To All The Faux Religious Trappings Of 80s Goth Bands'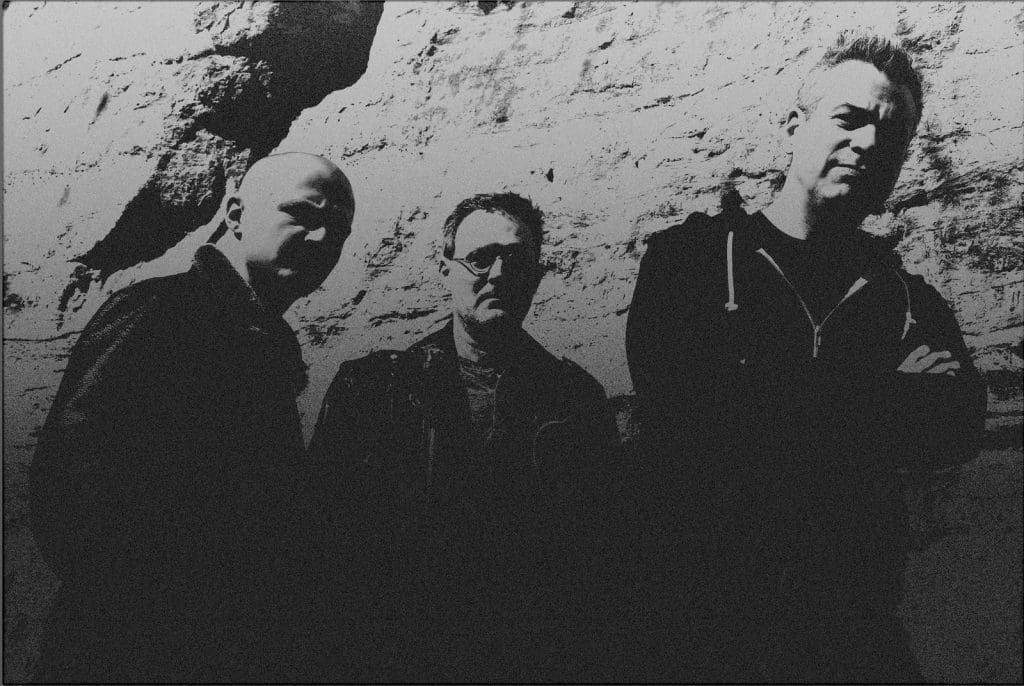 The Seven Whores Of The Apocalypse is an American music band operating from the Twin Cities, Minnesota. Chris (samples, sounds, cover art, video art), Tom (vocals, sounds, songwriting), and Jason (vocals, sounds, songwriting, production) last year signed to European label Scanner / Dark Dimensions. After the promising EP "Wicked Hands" released in 2022 they this year unleashed the official debut album "All Through The Waste". It's a powerful piece of EBM; a bit atypical and characterized by accomplished, dynamic, and elaborated songs. This is a surprising production for demanding EBM lovers. I asked a few questions to Jason and Tom.
(Courtesy by Inferno Sound Diaries)
Q: I noticed you guys have been all involved -and still are, with other projects before setting up The Seven Whores Of The Apocalypse. What brought you together to set up an EBM-driven band and where does the band name -which doesn't sound that Electronic, come from?
Jason: We found each other on Bandcamp in 2019. We all have a background in Experimental Noise and Dark-Ambient, and right away we decided to work together on a project in that vein. We released an album in early 2020 under the name Thrill Behind Barks (with another to follow in 2024). We each have our own individual projects as well. Chris has The Creeping Man (Dark-Ambient), Tom has The Angler King (Experimental Ambient-Noise), and I record under the names Timewitch (Experimental Occult-Synth) and Perfect Female Type (Synth-Wave Pop).
The Seven Whores Of The Apocalypse was born of our shared love of 80s Electro-Industrial music, particularly bands like Clock DVA and Skinny Puppy, but also certainly more mainstream artists like Depeche Mode and New Order. I laid down a quick idea for a song that paid homage to the songs of that era and asked the guys if they'd be interested in doing something a little more structured. Tom offered to do the vocals and our first single "Parasite" was born. We were all like, oh damn, this could be a thing!
The name is a nod to all the faux religious trappings of 80s Goth bandslike Sisters Of Mercy and Depeche Mode. Plus it sounds badass and it's hard to forget once you hear it!
Tom: Jason came up with the name. I remember him telling me where exactly it came from, but that story escapes me. I do however have a very solid memory of me reciting my interpretation of its origins, and the meaning that it has to us. I got very complex with all of these biblical and religious allusions, and how they relate to the name ultimately making fun of misogynists, and it's connection to feminist lyrics in some of our songs.
I got done telling Jason and Chris my moderately pretentious analysis, only to have Jason say something along the lines of 'Wow, that's a really interesting take. I just thought it was a cool name though.'
I got a pretty hefty laugh out of that. Sometimes things are the way they are just because they sound cool. I tend to write lyrics like a James Joyce-wannabe experimenting with refrigerator poetry, so it was nice to be brought back down to earth with a jolt that "not everything is drowning in symbolism".
Q: Do you have specific sources of inspiration and/or references when it comes to composition?
Jason: I think the biggest inspiration for us when we started the project was a 1989 album called "Buried Dreams" by Clock DVA. Something about it just captured our imagination, and we wanted to do something super dark and hushed and almost Coil-like at the beginning. As we moved through a number of singles it became clear that we were moving in a more aggressive direction. Our songs got more and more up-front and assertive while still maintaining elements of hushed experimental electronica.
A big source of inspiration for us now is the kind of music we hear at local Industrial clubs. It's a mix of Dark-Techno, Industrial, and EBM. There's so many artists out there, and we try to learn as much as we can from these other acts. Recent influences include Black Nail Cabaret, Gesaffelstein, and Ultra Sunn. There's a list of artists we love —both in and out of the music world — on our website sevenwhoresoftheapocalypse.com.
Tom: Clock DVA was the big one that we were inspired by with at first. We heard "Buried Dreams" and it was like turning on a light switch. However, we all have some pretty big influences in Experimental, Industrial, Dance music, and Rock, so it was only a matter of time before it changed into something like our other influences. Our more recent tracks have been more along the lines of Skinny Puppy, Thrill Kill, Nitzer Ebb, Lords Of Acid, Alien Sex Fiend, and similar groups.
Q: Tell us a bit more about the content and concept of the debut album "All through The Waste"? How did the album saw the daylight and what did you experience as the main challenges, difficulties and points of satisfaction?
Jason: The songs are presented pretty much in the order that we recorded them. We wanted to maintain similar themes as before but also broaden our perspective to include more cosmic themes of the afterlife and alien civilizations. We started recording in the summer of 2022. The first track, "The Gods Are Angry", took almost two months to produce, which is way too long! The second track, "Slow Riot", was kicked out in just a few days. The rest of the songs were recorded into the fall and early winter, and actually moved fairly quickly once we got past that first nightmare song.
One of my favorite things about "All Through The Waste" is how collaborative it was. Each of us contributed foundational sounds and textures to the album which I think gives it a cohesive, holistic sound. For me the biggest feeling of satisfaction came when we finished the last track! I'm incredibly happy to be working with such talented bandmates.
Tom: The content has a pretty hefty range. I like to think of the album as a string of connected concepts concerning our worldview at the time, as opposed to being a solid concept album with a primary jumping off point or narrative. Just on my part, the lyrics I contributed had to do with mental illness, physical isolation, surreal nightmares, mysticism, and other topics.
Q: What's the input of each member in the writing/production process and what makes the chemistry of the band?
Jason: Tom and I both do vocals, although Tom does the lion's share of the lyrical and vocal work. All three of us contribute various sounds and samples from our own respective studios. Chris handles the cover art and music videos and I do the composition and production.
The chemistry has been an interesting evolution because we all met right before the Covid lockdowns started, so all of our early collaborations had to be virtual. Now we hang out a few times a year to have a meal and catch up, but almost all of our collaborative work is done online. We send files back and forth and chat and send funny pictures around. So there's a bit of distance there, but somehow it all works.
Tom: I don't think that it's ever been the same on a single track. The amount of contribution changes gradually with each release. However, the primary roles that have stayed consistent is usually Chris handling samples, production, and videos, Jason handling primary production duties as well as vocals and lyrics, and me almost exclusively doing vocals and lyrics.
Q: I noticed an impressive evolution in production and power from your self-released (debut) singles towards the songs featured at "All Through The Waste". How do you perceive the evolution of the band? What has changed? What's new? And what do want to achieve on further songs?
Jason: Oh thanks, that's really nice to hear! I think the biggest contributor to the evolution of our sound and production quality is practice and experience. There's really no better teacher. In 2020 I returned to DAW-based music after a long break, so I had to re-learn everything over from scratch. No matter the medium, all three of us are prolific artists in our own right, and that experience makes us stronger.
I'm very happy with and excited about the evolution of our band. I think the biggest change we've experienced is moving from moody, Ambient Electronica to a more aggressive Techno-Industrial stance. I think that stems from the influences we expose ourselves to as well as just being a little more aggressively experimental in the studio.
Having said all that, I think there's a very good chance we could return to that hushed, dark sound of late-80s Clock DVA in a future release.
Tom: I honestly wish that I had an answer for you, but I'm not really sure. Whatever the progression has been, it feels organic, like we're just working out the kinks and moving closer to a more solid image of what we want to do, like any group continually honing their process in whatever medium they choose. I don't really know what's next, and what's after that, but I do know that I'm excited for the journey.
Q: Do you've new things -like live shows, tours, remixes, clips etc.. in the pipeline?
Jason: Yes, in fact we're featured on a new remix-EP called "Pretty In Pink (Isn't He)" by PROBE 7. One of the DJs at a local Industrial club turned us on to their work and mentioned they were looking for artists to remix their re-imagining of the classic Psychedelic Furs-song. Plus we won a remix competition last year for the Feardemic horror gaming platform, which was a huge boost.
We'd love to start doing live shows at some point, but there's nothing on the calendar yet. Otherwise we're back in the studio working on new material, and excited to collaborate with other artists whenever we can!
Speaking of which, I'd like to give a quick shout out to a band that caught our attention recently, one we'd love to work with soon, a band is called Thy Seven Synth. I came across their new single "A Ring To Behold" while scrolling through Reddit, and I literally had to stop what I was doing. I listen to a lot of new music this way, usually on Reddit and various Facebook groups, and most of the songs are very amateurish and unrefined. Not these guys. I can't remember the last time I was this excited about an up-and-coming band. I reached and they were very sweet and engaged, so hopefully there's some future collaborations there. Our names even match!
Tom: Live shows have been the most recent thing that's coming up more often in conversations. There's a pretty decent Industrial/EBM scene near us, so I think it would be feasible to book a show of some type.
Whether we're playing to four waiters and a guy passed out at the bar, or opening for NIN, that remains to be seen. I think that we'll be much closer to the former, but who cares? I'm here to have fun with my friends, and if people happen to enjoy the music along the way, then I'm ecstatic. I can only hope that we do this well into our 90s. This is by far the most fun creative project I've ever been involved with, and I don't see that changing anytime soon.
Since you're here …
… we have a small favour to ask. More people are reading Side-Line Magazine than ever but advertising revenues across the media are falling fast. Unlike many news organisations, we haven't put up a paywall – we want to keep our journalism as open as we can - and we refuse to add annoying advertising. So you can see why we need to ask for your help.
Side-Line's independent journalism takes a lot of time, money and hard work to produce. But we do it because we want to push the artists we like and who are equally fighting to survive.
If everyone who reads our reporting, who likes it, helps fund it, our future would be much more secure. For as little as 5 US$, you can support Side-Line Magazine – and it only takes a minute. Thank you.
The donations are safely powered by Paypal.