'Click Interview' with Schwarzblut: 'Freedom, Identity And The Celebration Of Diversity'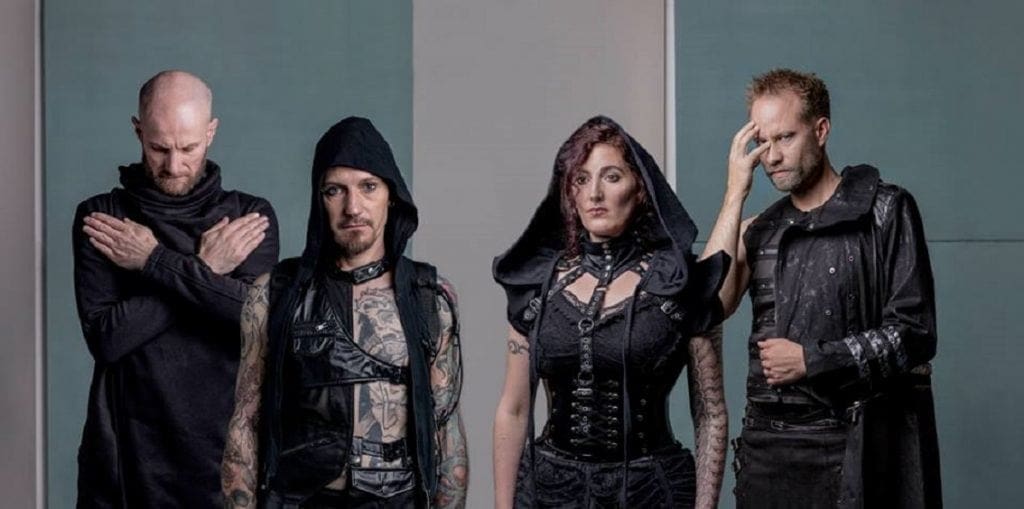 Hailing from The Netherlands Schwarzblut has released its fourth full length album "Idisi" on Alfa Matrix. The main sources of inspiration remain a dark-electronic composition mixed with ethereal elements. On previous releases the songs were constantly switching from one style to the other while "Idisi" reveals a perfect fusion between both influences. I consider "Idisi" as their absolute masterpiece, which naturally brought me to get in touch with the band's front man 'ZEON'.
(Courtesy by Inferno Sound Diaries)
Q: Four years are separating the new work "Idisi" and its predecessor "Gebeyen Aller Verdammten". Does it mean it was more difficult to achieve this new opus and find new inspiration or did you just need a longer break after your previous releases?
ZEON: We never do the same thing twice and we really wanted to take our time to make this album meet our high standards. So we did. Very early in the writing process we decided to focus on the root of the Germanic and Franconian languages. We heavily researched the earliest writings, dating back as early as the 6th Century. Most of the texts for "Idisi" took me quite some time to read and fully understand, due to the way they were written or printed. Very time consuming, but also very enchanting and a great way to slow my mind down. In our age of distraction nothing is so luxurious as paying attention. Besides great meaning, these texts also have a sound and rhythm that is very inspiring to me. They were instantly inviting us to turn them into songs. They have an abstractness to them that works great with our dark, rhythmical music.
The music on "Idisi" is predominantly based on electronic instruments, but has a very organic feel. To achieve that we also included a lot of acoustic instruments such as nyckelharpa, violin, hurdy gurdy and percussion. We have a few guest musicians on this album as well. Logistics was sometimes challenging, but it was a wonderful trip and we are very proud of the result.
Q: Sound-wise I always have experienced a 'duality' between the dark-electro side and the ethereal side while according to me "Idisi" is the real first album we can speak about 'symbiosis' between both influences. I've been really impressed by this sonic fusion, which has something original and refreshing. What's your perception of this evolution in sound and the new work generally speaking?
ZEON: Thanks for the compliment! This surely was one of the things we aimed for on this album. When Herr Sturm left our line-up a few years ago, I became the solo-songwriter for the band. This allowed my preferences and ideas to really come to the forefront. I share my taste with our lead singer Angelika, so moved the new album towards a more ethereal sound. Trying new stuff kept things fresh. Also our new synth/vox/percussion guy Gijs van Ouwerkerk is a brilliant musician, who really earned a place on this album. Go check the songs "Dolorosa" and "Eiris Sazun Idisi" for some great vocal harmonies by him, Angelika and me to get an idea of what I am talking about.
Q: Another interesting aspect is featured at the limited edition of "Idisi" featuring a bonus disc, which is more into cinematographic-, mystic- and even ritual-like songs. That's already something 'new', which can maybe open new horizons for further releases. What can you say about it?
ZEON: "Idisi' is also available as a 2CD, that comes with an 8-track bonus disc. Besides 3 remixes it contains a series of 'meditations'. This five movement cycle of original Schwarzblut works is comprised of environmental recordings, audio experiments and vocal intensity. Through this I place the listener inside the Hagia Sophia, at a western European harbor or in a morning forest. These pieces were written and produced during the same time as the album. Some of them were used in a series of theater performances in 2015 and later adapted for the album. All meditative pieces are very much related to songs on CD 1 of the album. I invite our fans to immerse themselves in the music and find the connections.
When I compose I often reach a meditative state of clear focus that makes ideas come in an ever flowing stream. Music in that sense is a way to transport myself and the listener. As one can expect from Schwarzblut, these meditative tracks have a dark and introvert character. "Meditation Auf Schnecken" is the opening track of CD 2 and indeed starts with the sound of a snail. Maybe more of this type of music will be released in the future. For now I invite everyone to immerse themselves in the music and be transported. Just like I was, when it was being created.
Q: I was rather surprised by your edit of the legendary "Palästinalied" featuring Hannah Wagner. I've to admit I was thinking 'oh no, not again this song that has been already interpreted by numerous artists'. But next I realized his original composer Walther von der Vogelweide totally matches with the Schwarzblut concept so in the end you simply had to feature this song, right? How did you work on it and what did you like in its lyrical content?
ZEON: We deliberately took a risk by doing our version of this iconic 13th Century song. On the album this song connects the Western and Middle-Eastern worlds. We really made our own version by adding vocal harmonies, some spoken parts in Latin and hard hitting drums. It also features the majestic play of our German friend Georg Börner (Sangre De Muerdago) on the nyckelharpa. His medieval string instrument gives the song a mysterious and organic vibe. Having Hannah Wagner (Saeldes Sanc/Helium Vola) sing it as a duet with Angelika, gives the song an outstanding quality.
Q: Schwarzblut is one of these bands where the lyrics are as important as the music. It's not just a simple concept, but a truly passion for literature, poetry, mythology. I can imagine it also takes a lot of time to find and write the right lyrics and next using an appropriated language to sing. Who's taking care of this aspect and how does it really work?
ZEON: Most texts are sourced by me and come from my personal collection of old books and facsimile editions of rare and historical handwritings and prints. With additional online resources I am able to explore the content, context and pronunciation necessary to turn the text into songs. All Schwarzblut members have an interest in art, history and literature. In our rehearsal bunker we often discuss newly found texts during our coffee breaks. The new album features texts in a variety of historical European languages such as Middle-High German, Lower-Franconian, Old-Lower Saxon and Old-Dutch. For us this was a way to explore our own lingual culture and heritage, as for the first time we also included texts in old-Dutch and early versions of our own language. From there we decided to explore eastwards into new lyrical and musical territory. That's how the album became so rich with sounds and languages from the Old-World. From the opening track "Eiris Sâzun Idisi", with its powerful First Merseburg Incantation (Old High-German, 9th/10th century) giving the song a great rhythmical drive. All the way to the album's closing hymn "Ghaselen Des Dschelal-Eddin Rumi", with its mystique atmosphere set by the 1819 German translation of works by the 13th-century Persian poet Jalal ad-Din Muhammad Rumi (1207-1273).
Freedom, identity and the celebration of diversity can be seen as the common thread running through all ten songs on the album. And indeed we did not shy away from also including some brutal texts about war and prosecution.
Q: You last year released the split-EP "Wildes Herz" with Saeldes Sanc. It already was your second split-release with this band featuring Hannah Wagner. What makes this fusion between both bands and are there further plans to work together? And what are your further plans generally speaking?
ZEON: We did a split-single release with Hannah Wagner back in 2015. She's a great talent and very sweet person to work with. So while we were working on "Idisi" we decided to do a mini-album with her. We released the 8-track mini-album "Wildes Herz" in 2017. It features songs from her band "Saeldes Sanc", some "Schwarzblut" songs and a few remixes. We are currently promoting the new album, doing concert and interviews in mostly Germany and The Netherlands. The next few weeks there are 3 or 4 compilation albums coming up around the world that feature our music. We will also record a song for a yet to be disclosed tribute project. And of course there are already musical ideas emerging for a future Schwarzblut release. We have a Facebook page where we post updates several times a week. We also have a monthly newsletter and an extensive website. So you know where to go, to keep up to date with us.
Since you're here …
… we have a small favour to ask. More people are reading Side-Line Magazine than ever but advertising revenues across the media are falling fast. Unlike many news organisations, we haven't put up a paywall – we want to keep our journalism as open as we can - and we refuse to add annoying advertising. So you can see why we need to ask for your help.
Side-Line's independent journalism takes a lot of time, money and hard work to produce. But we do it because we want to push the artists we like and who are equally fighting to survive.
If everyone who reads our reporting, who likes it, helps fund it, our future would be much more secure. For as little as 5 US$, you can support Side-Line Magazine – and it only takes a minute. Thank you.
The donations are safely powered by Paypal.