'Click Interview' with La Jungle: 'Organic Trance Music'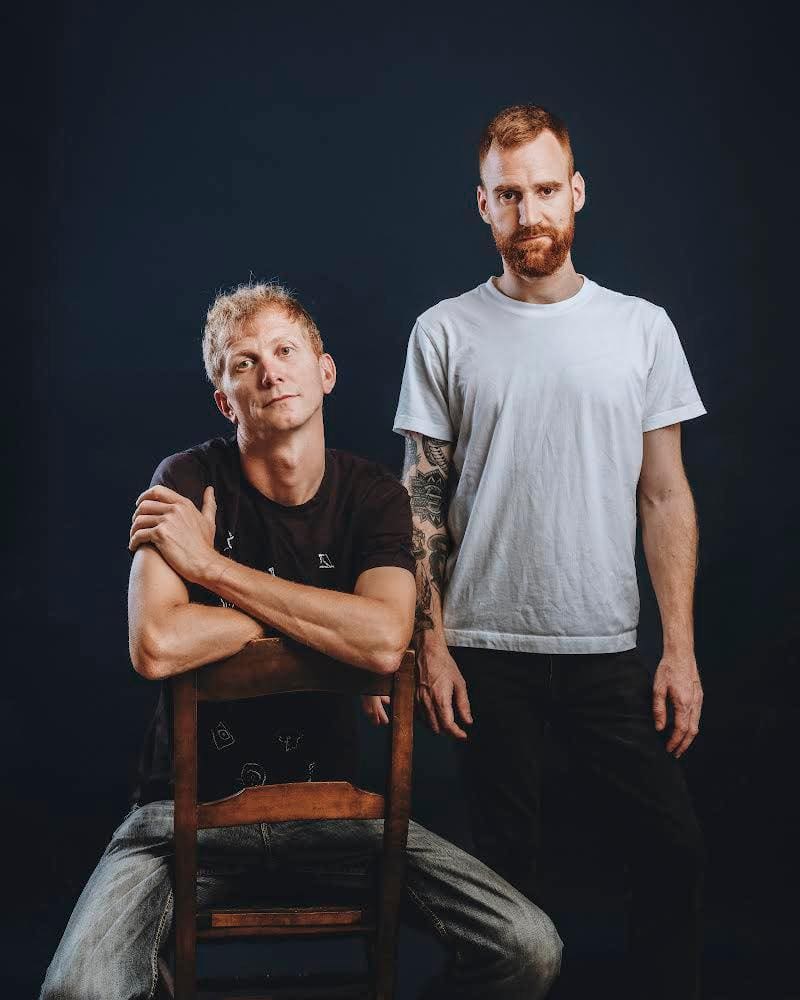 La Jungle is a Belgian duo from the Southern part of the country set up in 2013 by 'Roxie Rookie' and 'Jim Frisko Binwette'. They already released an impressive number of productions this year striking back with their sixth opus "Blurry Landscapes". The album has been released as a collaboration between different labels: Black Basset, Rockerill and A Tant Rêver Du Roi. La Jungle deals with a mix of Krautrock, Industrial, Techno and a few more genres which they prefer to define as 'Organic Trance Music'. "Blurry Landscapes" is a great music accomplishment but still a fascinating concept mixing the work the music of La Jungle together with Outsider/Art Brut artists. I invite you to discover this talented project by this interview.
(Courtesy by Inferno Sound Diaries)
Q: Tell us a bit more about your musical background and what incited you to set up a band and La Jungle specifically?

Roxie: One of the reasons our band is still existing 10 years after is surely because we didn't want to perform the same kind of sound Jim and me. I was more into Noise-Rock duos as Pneu, Lightning Bolt with mathy touch, with Zach Hill and "Hold Your Horse Is" by Hella as references. You can maybe hear that, especially in our albums from the early years, "La Jungle" (2015) and "II"(2016).
Jim: I was more into, Nirvana, Fugazi, At The Drive-In/The Mars Volta-stuff. I was also into New-Beat wave back in the days. But to start this band we just threw ourself in a garage and that's what went out.
Q: You already released an impressive number of works so how do you explain this prolific process? Is there any specific formula in the writing of the songs and what makes the chemistry between both of you?

Roxie: Let's talk about this chemistry, because it's not only in the rehearsal room or in the creative process. Jim and me are pretty different and surely opposites on many points. And I think it's a good thing for your band if you don't always share the same state of mind with your partner. Jim is most of the time waiting the last minute and the last second before doing a random stuff planned for month, while I always want to do it the sooner the better, the first day if possible. Two visions, two ways to do, but it works. It's hard sometimes but we can find a balance in 99% of the situations, and with this balance comes a natural rhythm of work, of new songs, of recordings and releases, of tours and concerts. We even have our own label together with regular new publications since 2020. So, it works anyway.

Jim:I don't compose before the rehearsal room as I did for some other bands. Here we jam together and if a song is coming out great! It's all about spontaneity.
Q: Your newest album "Blurry Landscapes" is for sure a very specific and I dare to say 'conceptual' album featuring Art Brut artists. How did you come up with the idea and finally the meeting and collaboration with all these artists? How did they react to your music and can you give us more details about the accomplishment of the work?

Roxie: We have many ideas of records or bands or releases or as you say 'concepts' we want to set up. But most of them are on a list, in our head, and we will make them exist when we will find the time and a decent mental condition for this. For example, we are working hardly on something for three weeks now in our rehearsal room. It's been two or three years since we started thinking and talking about this. But we both have families, we are constantly on tour and for sure we manage a lot of stuff in this band. So we had to wait many years before starting this specific process. You will maybe hear or see a result next year. Who knows.
It's exactly the same situation with "Blurry Landscapes".The idea of making an album where each new track is illustrated by an outsider artist is on our list for a long time. And then came a major event that changed all our plans: pandemic. With pandemic, we finally found time at home with our families, time to sleep better too, no tour for several months. We also found time to think about what this band is, and what we want to do with our duo in the next years. And so we started the writing of our 5th studio record "Ephemeral Feast".Months later Covid was still there, so we decided to call a good friend of us, Coline, now coordinator of Art Et Marges-museum in Brussels to start the creative process around "Blurry Landscapes"; dress a list of outsider artists from the museum we would like to work with, making new songs, drawing some draft of the future vinyl and its booklet, moving in creation spaces and meet people as Inès Reddah, André Robillard or Serge Delaunay. That's how it started.
Jim: Yes, and I think we had some of the best meeting during this process. We can learn so much from them, more than what we can give them.
Q: Because of their mental/psychic restrictions Art Brut/Outsider artists are often living aside of society. How did it feel to get faced to their reality and what experiences come directly into mind when you think about these meetings?
Roxie: We have visited many creation spaces dedicated to Outsider art while writing "Blurry Landscapes". We have met most of the twenty artists involved in the visual part of the record in their daily space of work, in their artistic intimacy. Most of the time, it's really quiet places, it's out of this world. The time is not running the same way. Most of the people don't even notice you just came in. You have pieces of art and huge Outsider collections everywhere, on the walls, on shelves or archived behind a hidden door.
Unfortunately, with pandemic restrictions, we were forced to communicate with some artists exclusively with video meetings. It was surely not the most interesting part of the process, but we really wanted this album and collaborations to be released in 2022/2023. So we also made some exchanges and collaborations only with mails, as it was the case with La "S" Grand Atelier, where residents could not see each other in the worst month of the pandemic. Hard times. So the human experience was not really there, but it worked anyway, and the artists enjoyed the tracks we sent to them, and they answered us with great pieces of art. Jim:And they were all happy to collaborate with us. They did it in a spontaneous way. Full of honesty. It means a lot for us.
Q: Sound-wise La Jungle clearly stands for Krautrock with some extra influences on top. What's your perception of the 'sound' you're dealing with and do you handle specific criteria and references in the writing/production process?
Roxie: I think we try to make something organic since the beginning in 2013. That's why we don't use samples, triggers, modern keyboards setups or pre-recorded loops. If you apply this rule on the drums specifically, you will notice that you have no classic Rock or Pop-patterns on the records. Most of the time, the bass drum kicks on each beat, as Disco or Techno. On top of this kick, I try to make something filled with a lot of drums and cymbals, and also with a really aggressive snare as you can generally find on noise records. It's pretty rare hearing me playing something rudimental on the drums with La Jungle. Some people are bored with that because it's too much, some others are amazed and even see and hear it as a funny fact. I don't really have control on this, that's the way of playing drums I developed with this band years after years. It's something that came naturally.
Jim: Organic Trance music. I'm constantly searching for new sounds. I try to change my pedal boards for each album.
Q: I've been impressed by the number of live shows you already did and especially this year. How do you see yourself as a live band and what makes the magic of La Jungle on stage? And how do you transpose the songs from the studio to the stage?
Roxie: We performed so many gigs, especially this year as you notice, that I don't really know how to see ourselves anymore as a live band. There is an expression in French 'La tête dans le guidon'; that means that you're so deep in your stuff that you cannot see what you're doing from a different point of vue or angle. I feel that especially because we released three albums on three consecutive years (2021, 22, 23) and because we are on tour for two year and a half now (250 gigs) since the pandemic ended in May 2021.
Your question about studio and performances is also an interesting one. Because we recently took the decision to write future songs exclusively playable on stage. If you see La Jungle live and hear the records before, you will notice we don't play a lot of songs from the three last albums. Because most of the songs on these records are just not fun to play or even not possible to play live. Some of it would sounds pretty boring on stage actually. Too slow, too much lyrics, not really catchy. And there's sometimes too much loops to let 'the magic' (as you said) happens. So yes, we have to figure it out for the future. Thank you for your time.
Jim: Main point is energy. It's like our sport. We can sweat all the bad out from our bodies. It feels good. We always want to play new stuff on stage. So yes we are working again on something as pure live songs. We'll see. Thank you
Since you're here …
… we have a small favour to ask. More people are reading Side-Line Magazine than ever but advertising revenues across the media are falling fast. Unlike many news organisations, we haven't put up a paywall – we want to keep our journalism as open as we can - and we refuse to add annoying advertising. So you can see why we need to ask for your help.
Side-Line's independent journalism takes a lot of time, money and hard work to produce. But we do it because we want to push the artists we like and who are equally fighting to survive.
If everyone who reads our reporting, who likes it, helps fund it, our future would be much more secure. For as little as 5 US$, you can support Side-Line Magazine – and it only takes a minute. Thank you.
The donations are safely powered by Paypal.