'Click Interview' with Individual Totem: 'How Horrible Would It Be To Be Labeled As 'Dumb Music?'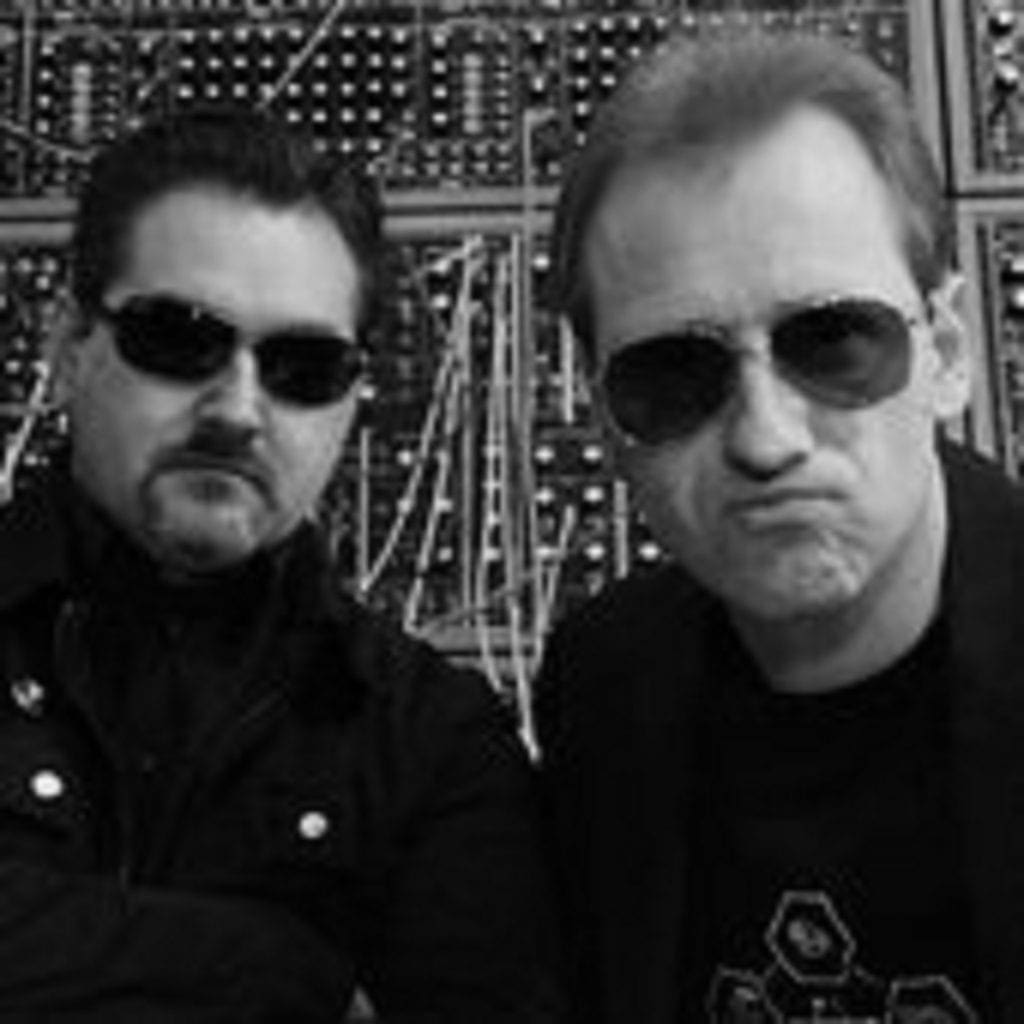 Bernd Madl and Mathias Knopp set up Individual Totem during the late 80s. The duo gained some recognition when releasing their music on Off Beat. They next signed to the Canadian label Artoffact. Mathias Knopp left the band in 2010 and got replaced by Jürgen Mossgraber. After a hiatus of five years they now released the album "Electrostatic", which appears to me as their most accomplished work to date.
(Courtesy by Inferno Sound Diaries)
Q: Individual Totem is already active since the late 80s and has never released new work at regular basis, but I get the impression each new album stands a bit for a new start and a new sonic adventure. So the hiatus between each production seems to bring you inspiration and creativity, right? What is it all about?
Bernd: From my point of view, I love synthesizer and modular stuff. So I check the new products on events like Superbooth and get the inspiration from those instruments themselves. So each album features instruments from the 'production-years'. A funny thing is, I used my first drum machine Tr-505 on the new album again. So it is all about the machines.
Jürgen: We have the great luxury not to be pressed by anybody to release 'the next thing' to make some money. So, the next album is ready when it is ready. In the meantime, usually a lot of things happen like be together with family, travelling, politics, new music gear, etc. All this influences our music.
Q: Your previous album "Kyria 13" was a conceptual sci/fi-inspired album. What is the new work all about and what have been the main sources of inspiration –lyrical and sound wise?
Bernd: I had most of the songs ready for "Kyria 13" and Jürgen did the production and mastering. After this release, we started jamming together to create the new album sound more like a band effort. So we got a lot of live-recordings from our jam-sessions. The tough job was then to create finalized songs out of them. During a jam, I am always singing on the music some improvised words without any meaning. After the recording, we check the result and quite surprisingly, most of the time we find good text ideas in my roughness.
Jürgen: There is no single source of inspiration we could point. It is more like, that behind each of the songs is a longer story or it stands for a mood we were in during a period of time while writing the album. Being a researcher in my day-job, I did some analysis on some of the typical songs in a genre and how they work. Then I tried to write similar simple songs, but miserably failed.
Q: Do you agree when I say that "Electrostatic" probably is your most diversified- and most mature album to date? What kind of work did you want to accomplish on "Electrostatic"?
Bernd: We started to work with the software Bitwig Studio. You can easily loop parts of a song and combine different structures, therefore we did a lot of experiments. We had a focus on pumping sounds in the beginning and tested some of the songs during live-gigs on their 'dance-compatibility', but also added more experimental songs after that.
Jürgen: I listen to a very wide range of music and this is something that is reflected in my music. From my point of view the magic happens when you mix multiple styles. I find albums, which basically repeat the same songs 13 times just for the sake of fitting to a genre, which is very boring. All musicians love their latest release the most, but with this album, it is the first time I am really satisfied from beginning to the end. When listening to it I'm wondering about how did we do this?
Q: So what has been the main focus (sound- and production wise) when composing "Electrostatic"?
Bernd: Sounding modern, not too old school -because we already have that sound in our back-catalog (like "SETI" –if you love samples). Using actual stuff –for me: DSI, Arturia, and Waldorf. Putting the final touches on the album in a professional mastering was a new thing too. Last time we did that on Mind Sculptures Flesh –incl. psychoacoustic Recording.
Jürgen: The point that is important to me is not to set boundaries from start on. Questions like 'does it appeal to our audience?' or 'does it fit the style of Individual Totem?' should be left out of the process, but nevertheless we got heavily discussions about it (lol). Furthermore, we wanted to go the full way; as Bernd already mentioned, adding the final 10% in a mastering studio.
Q: I'm not the only one affirming that Individual Totem stands for 'intelligent' music, which means music featuring great sound treatments, sophisticated structures and a composition process that takes a lot of time. Do you recognize these elements and isn't it frustrating to realize 'intelligent' music is often underrated and less recognized?
Bernd: Shure it is frustrating, in the beginning there was the hope to earn some money- today I know it is art for a couple of fans. So it is a hobby, not more or less. If you want to make us happy- invite us to a festival and come to see us when we play live. I get energy and ideas from meetings like Happy Knobbing and talk to other artists.
Jürgen: First of all I have to say I feel honored that in all reviews and interviews we are tagged as 'intelligent music'. How horrible would it be to be labeled as 'dumb music?' Next, I prefer to get positive feedback from people who really care about music instead of being the usual I-can-whistle-to-it-while-washing-the-dishes band.
Q: You started making music in the late 80s so you've seen a lot of things evolving throughout the years; from instruments to recording techniques to software [r] evolution to cassettes in the early years and streaming today etc. What do you consider as the most important and essential changes/evolutions and are there other evolutions you rather consider as a step backwards?
Bernd: Cubase is my recording tool over the years. Nowadays I record on an ideapad core i7- this is nothing special, but you see -all is working fine and easy and that's the most important thing. We had a lot of stress with our systems in the 2000. Today you can have a lot of fun with Euroracks and small modules. Check out the video I dream of wires…
Jürgen: The great revolution was that you are no longer limited by a budget. Nowadays, you can get great recording equipment, software or hardware synthesizers for a couple of bucks and produce an entire album in your bedroom. With this comes the drawback that no filtering process happens and a lot of crap gets released, but I think the number of great albums was and is quite constant over the years (but they are harder to find). Another danger with modern technologies is the endless possibilities you have and you can easily get lost in the gear instead of making music. Therefore, we brought only a very limited setup to our sessions: Bernd had his DSI and small Eurorack, I had Bitwig with the Push controller and an Arturia Minibrute.
Since you're here …
… we have a small favour to ask. More people are reading Side-Line Magazine than ever but advertising revenues across the media are falling fast. Unlike many news organisations, we haven't put up a paywall – we want to keep our journalism as open as we can - and we refuse to add annoying advertising. So you can see why we need to ask for your help.
Side-Line's independent journalism takes a lot of time, money and hard work to produce. But we do it because we want to push the artists we like and who are equally fighting to survive.
If everyone who reads our reporting, who likes it, helps fund it, our future would be much more secure. For as little as 5 US$, you can support Side-Line Magazine – and it only takes a minute. Thank you.
The donations are safely powered by Paypal.