Click Interview with Beborn Beton: 'As Beborn Beton, Right Now We Are Having The Time Of Our Lives'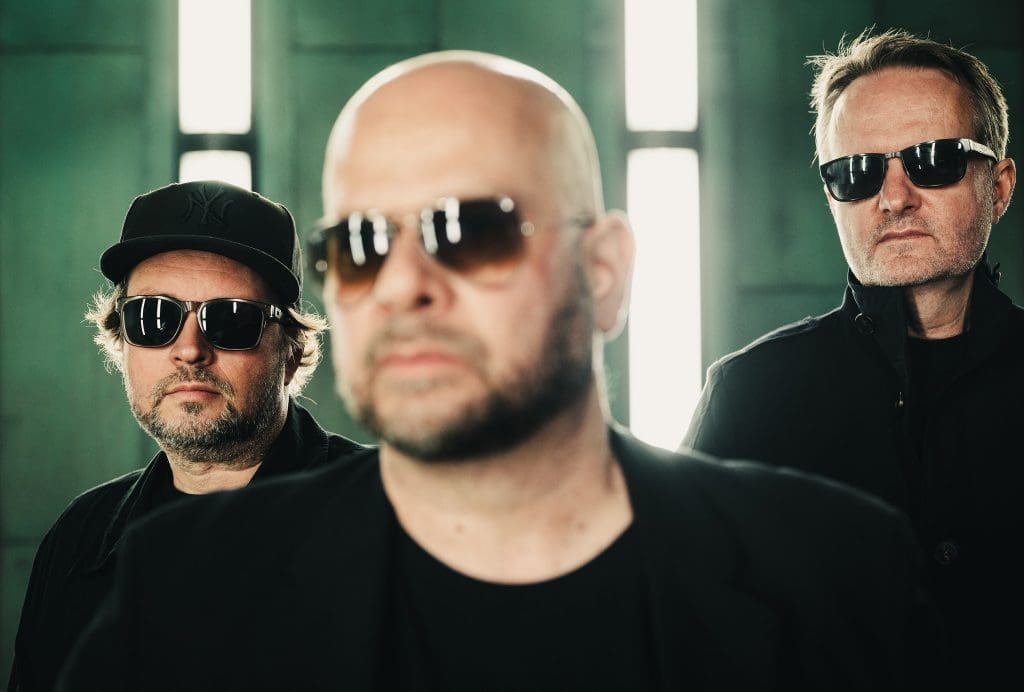 Thirty years after their official debut album "Tybalt" German Electro-Pop formation Beborn Beton strikes back with their ninth album to date. "Darkness Falls Again" (Dependent Records) deals with the dark, contemporary, times we're living in. Music wise the album holds on the familiar and very personal Electro-Pop style of the band; danceable and melodic songs featuring a professional production. I talked about this masterpiece with singer and front man Stefan Netschio.
(Courtesy by Inferno Sound Diaries)
Q: I realized that your first official album "Tybalt" has been released thirty years ago now. How do you remember the first steps of Beborn Beton and how do you see the evolution of the band throughout the years?
Stefan: After such a long time one questions the validity of one's own memories. For sure there are certain milestones that will always stay with you, but everything else in between is a blur. There are lots of things lying dormant. It would probably require a night or two with all three of us reminiscing. I remember the nights we spent in the studio recording the first albums. And even before that, the studio time we had when recording our first songs with Carlos Peron in Switzerland and Cologne (Germany). Lots of people we met. The many different bands from that time, some are still active musicians and some have quit the business. The early tape recordings. Back then there was a tape scene with labels that put out compilations. I remember it being exciting being chosen for said compilations. And most importantly the many shows we played that had a significance for our evolution as stage performers.
I think the first era ended when we got signed to Strange Ways Records. The recordings with the late José Alvarez-Brill were a big step up, plus the wider exposure as a member of the Strange Ways roster. Super fun times. Touring with De/Vision, Mesh and Icon Of Coil.
Then getting signed to an US label and touring the states supporting Apoptygma Berzerk. An experience of a lifetime. Playing shows in Canada, Russia and all over Europe. We played many shows and festivals in the meantime, but it was only a few years later that we started writing and recording "A Worthy Compensation" with Olaf Wollschläger. That is definitely one of the highlights in our career. The work with Olaf was eye-opening. And we took more time than anticipated because it was so much fun and Olaf was more than just a producer. He profoundly understands our DNA. The new signing to Dependent Records and the return from that long hiatus with flying colours. All that time we have been independent artists. At some point, we were really young, there was the question whether or not to pursue a full-time music career. In hindsight I am so happy that we didn't, that we are able to do what we want to do and not having to answer to anyone but ourselves.
Q: How much of the young musicians you were at that time do you still recognize in your work and global approach today? And what makes the chemistry throughout the years?
Stefan: Thirty years is a long time to evolve as an artist and of course as a human being per se. We have seen a lot, we have traveled a lot. Played shows on different continents, many still to explore. We tried a lot of things and we wrote lots of songs, spent a huge amount of time in the studio playing with technology. So, we still have the urge to write meaningful songs and use the highest possible technical standards to bring them to life. On the other hand we are not so easily impressed by music anymore. We know the tricks and we know how it's done. But we still appreciate a good composition or a greatly executed production.
We have always been friends that make music together rather than fellow musicians. And that has not changed ever since. We party together and have spent a fair share of our free time travelling together not on tour as Beborn Beton. I believe, next year Till and I have known each other for forty years. We attended the same school when we found out that we liked the same kind of music. I met Michael in 1989 when we founded the band. That's thirtyfour years now. I am his daughter's Godfather and we all attended each other's weddings. We are like family. Not by blood, but by choice.
Q: There's already a serious gap (eight years) between your previous album "A Worthy Compensation" (2015) and "Darkness Falls Again". It gives me the feeling there's much more than music and Beborn Beton in your lives but how important remains this creative / artistic exposure and what does it mean to you? And what motivated you to start writing "Darkness Falls Again"?
Stefan: Beborn Beton is an integral part of our lives. That is our main outlet and means of creative expression. Sure, we all have very time and energy consuming day jobs. Some of us have another job on the side as Dad. So we do not always have time to meet all three to write music. But we still try to make time to spend some quality time together when we can. In the last few years I spent a lot of time crafting remixes and collaborating with other artists, enhancing my skills. But Beborn Beton is what we are even when we are not playing shows or writing albums. It's not a coat that you take off at the end of the day. We believe in what we do and we mean every word we sing.
After "A Worthy Compensation" we were arguing whether or not this was the best and maybe our final album. We worked for so long on this and everything about this release was meticulously thought out and heartfelt. We wondered if we still had something to share with the world. And most of all, if we had the energy to make an album that is even better or at least similarly good as this one. Then came the era Trump and his magic box of atrocities. Racism, sexism, climate change and exploitation of earth's resources, homophobia, sexual freedom, conspiracy theories. You name it. To us it seemed that this man spewed his venom at everything to fuel the anger of a divided nation and the world. We were on fire which resulted in us writing songs. It also made us sensitive to other topics that we weren't aware of before. For example postnatal gender designation, even at a later stage. Then there was the pandemic that opened the floodgates to right wing extremists and conspiracy idiocracy.
And to top it off, Putin declared war on Ukraine. Dark times for humanity, great times for songwriting.
Q: The album indeed reveals a strong lyrical and engaged content which has been transposed into catchy tunes and danceable songs. I like the contrast of dancing on very serious lyrical topics but how do you see this aspect? And what's the deeper significance of the lyrical content?
Stefan: That has always been our focus right from the beginning. Writing meaningful and serious lyrics, interesting stories and placing them in a beautiful, yet danceable and uplifting context. That is the core of Beborn Beton's musical formula. And on "Darkness Falls Again" we address the issues mentioned before. From self-determination of gender, free love and sexual orientation to the fate of our planet and generations to come, but also existential topics, life altering medical conditions and challenges, war in the name of religion, racism and the enforcement of women's rights. Some of the themes have been covered by songs that have not been released yet, so watch out for more to come.
Q: Can you give us an insight about the writing of "Darkness Falls Again". What have been the different stages you'd have to go through to achieve this work and what have been the major difficulties and challenges?
Stefan:The songwriting process hasn't changed over the years. Once the stories and topics are set, we sit together and the music is mainly conceived by playing around with the piano while the vocal melody takes form. And with the storyline in mind I vocalize parts of the vocal melody to get a natural groove and measure and once the chord progressions and vocal melodies are done, I write the verses and choruses while the beat and basslines are being articulated. And as long as I need to fix the lyrics, Till usually adds layers of sounds, percussion and additional sequences. When the music and lyrics are in a raw demo stage, we usually stop and let it rest for a couple of days. When we revisit the song to see if we still like it, we always find things that we feel could be executed better. This way we write the album tracks and in between all the songs get countless revisions. So, if – after months of songwriting -we still love the tracks we have written, chances are good that we are onto something big.
After that stage we get together with Olaf Wollschläger to refine the songs in his studio, work on the arrangements and the sound of the songs and get a cohesive album sound. This is when we record the vocals, get the mix done and give the songs that extra shine.
To be honest, fortunately there weren't any major difficulties or challenges. In times of lockdown, when we couldn't be in the studio together, Olaf worked on the songs on his own and gave us regular updates. But that was when all the pieces were finished in their substance and the adjustments were made on a very deep level, where mixing decisions were reconsidered and the overall sound was polished even more. Sometimes a few subtle changes go a long way.
Q: You already mentioned Olaf Wollschläger who produced the album. Less bands today are working with an external and renowned producer so what do you think about this evolution? And what's the impact of Olaf's work and production skills on the final result?
Stefan: A lot of bands do not have the budget to work with a renowned producer or they don't deem it necessary to get a person on board with another professional view on things. For us it really is liberating to have a second opinion. Olaf's creative input is very important to us and his ideas mostly give the songs that little extra. It isn't as simple as it sounds, because to get the perfect sound another couple of weeks pass. We knew Olaf from previous album recordings and as a team we worked even better than on "A Worthy Compensation".
There was a time when we didn't have the knowledge to produce an album of such quality on our own. Having worked with Olaf on two albums now for a considerable amount of time has broadened our skill set immensely. We have gained so much expertise from this collaboration. But of course, our relationship has become more than just a job acquaintance. We have become friends and just being around him is so much fun. We are on the same wavelength.
Q: A new album is often connected to live shows and tours, playing at big festivals, clips, remixes etc… What are the concrete plans right now and what brings the future for Beborn Beton?
Stefan: After the production of the album, we filmed two videos and commissioned numerous remixes from artists that we really like and admire. Some of those have been issued on the limited 2CD-Artbook edition of the album and on the "Burning Gasoline"-EP. And we are still not done with the "Darkness Falls Again" cycle. There are still songs that we recorded that did not make it on the album. Not because they are not good enough. They are just different and deserve a release on their own. And there are still a lot of great remixes that have not yet been released for different reasons. So you do the math;)
And of course we will play shows. We have played two shows now in Germany and there is more to come. A definite highlight is the co-headlining slot at this year's Terminus Festival in Calgary, Canada. Imagine my jaw dropping when I had a look at the bill and right after the main act Nitzer Ebb there stood our name. So, as Beborn Beton, right now we are having the time of our lives.
Since you're here …
… we have a small favour to ask. More people are reading Side-Line Magazine than ever but advertising revenues across the media are falling fast. Unlike many news organisations, we haven't put up a paywall – we want to keep our journalism as open as we can - and we refuse to add annoying advertising. So you can see why we need to ask for your help.
Side-Line's independent journalism takes a lot of time, money and hard work to produce. But we do it because we want to push the artists we like and who are equally fighting to survive.
If everyone who reads our reporting, who likes it, helps fund it, our future would be much more secure. For as little as 5 US$, you can support Side-Line Magazine – and it only takes a minute. Thank you.
The donations are safely powered by Paypal.