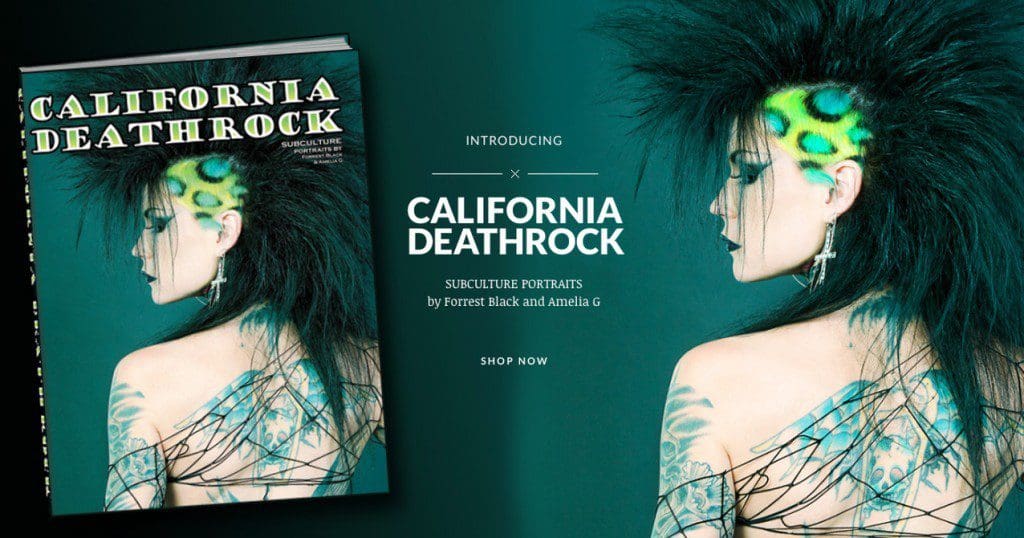 Out via sites such as Amazon
or from the project's site itself is the California Deathrock coffee table book. Included in the book are images of many deathrock luminaries, including Patrick Mata (Kommunity FK), Gitane Demone, Eva O, Dinah Cancer (45 Grave), Elvorian (Flytrap), Matt Riser (Fearcult), Deadfly Ensemble, Cinema Strange, Charles (Seraphim Shock, also appeared as Daisy's ex on Rock of Love), Tragic Black, Element, STG, and many more.
The 172 page hardcover book was written and compiled by Forrest Black And Amelia G (who you might know from her BlueBlood connection) and already dates from last year. It inexplicably passed under our radar until now.
For this compendium, the duo chose only images which were actually shot in California. Some of the deathrockers in this volume grew up in the area and some are 'transplants' as they call it and some were just passing through. Forrest Black And Amelia G: "We wanted to create respectful and celebratory work. We wanted to capture the joy and tribal sense of community which we experienced in the various subterranean worlds we documented. We wanted the flamboyant beauty we saw to resonate with other people the way it did for us. We wanted the people we photographed to look the way they looked in our minds' eyes when we recalled the excitement of nightlife at midnight."
Check CaliforniaDeathrock.com for extra info! Recommended purchase!