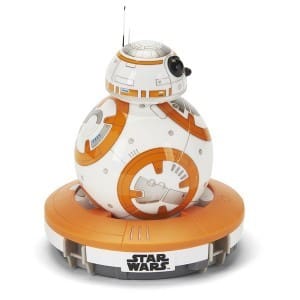 Star Wars remains quite popular in the industrial scene, for some odd reason. And for the geeks, there is now the ultimate toy, the BB-8, which has now gone on sale. BB-8 is an astromech droid that appears on the upcoming movie "Star Wars Episode VII – The Force Awakens". It has a ball shaped body and a domed head that resembles that of the R2 series droids, whose most popular unit is R2-D2. BB-8's body rolls independently from the head, which always stays near the vertical axis of the droid.
But it doesn't stay just a functioning film prop, as it is now made available as an app-enabled droid offering robotic movement, interaction and even personality so the makers say.
The BB-8 can be controlled using your smartphone or tablet but also recognises and reacts to your voice commands with a range of advanced expressions and behaviour. Designed with in-built holographic communication capacities, the Sphero BB-8 allows you to record and view virtual holographic videos. Add to that autonomous behaviour… yep, it has its own personality indeed.
Below is a video showcasing this little robot which is available from today on! For more Star Wars gadgets, check this selection.