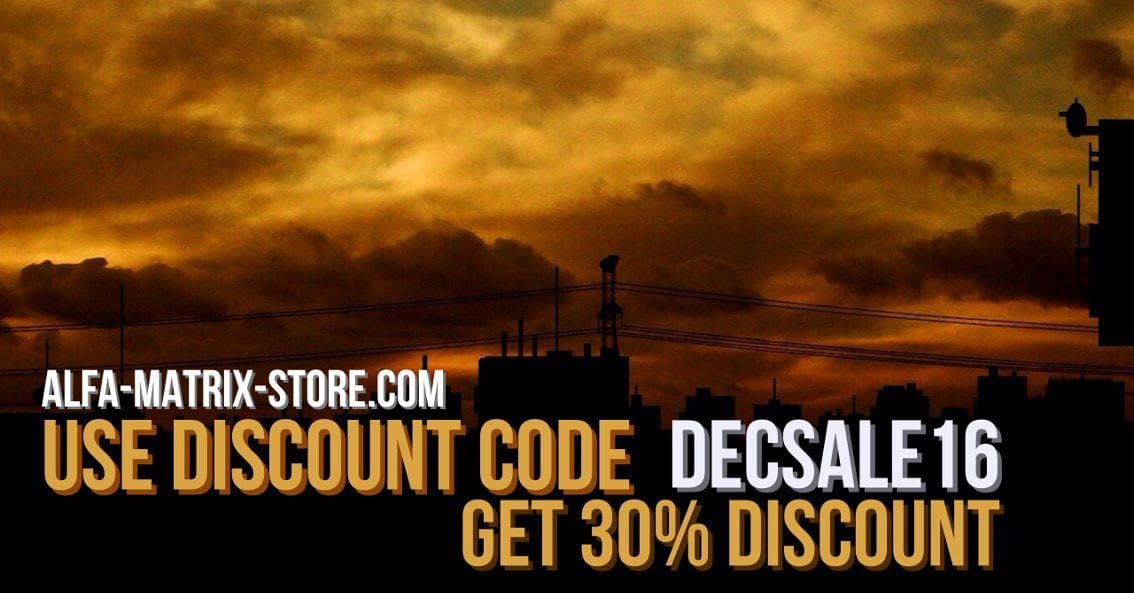 The Belgian electro label Alfa Matrix has launched a mega pre-Christmas sale action via its online CD/vinyl web store. Just use the discount code DECSALE16 when completing your purchase and you will get 30% off on all physical releases (CD, DVD, Vinyl) which came out before mid-June 2016 (so in short you get a discount on most of the label's huge catalogue).
The label webs tore can be accessed right here.
Included in this massive discount action are releases by 32CRASH, Acylum, Aengeldust, Aesthetische, Agonised By Love, Aiboforcen, Alien Vampires, Ambassador21, amGod, Armageddon Dildos, Avarice In Audio, Ayria, Bruderschaft, Cosmic Armchair, Crisk, Cynical Existence, Depeche Mode (the tribute releases), Diffuzion, Diskonnekted, Dive, Dream Recall, Dunkelwerk, Elektroklänge, ELM, Entrzelle, Epsilon Minus, Essence Of Mind, Freakangel, Front 242, Gaytron, Glis, Halo In Reverse, HausHetaere, Headscan, Helalyn Flowers, Hungry Lucy, I:scintilla, Implant, Internal, Inure, Junksista, Kant Kino, Klutæ, Komor Kommando, Krystal System, Leaether Strip, Lovelorn Dolls, Malakwa, Male Or Female, Mari Chrome, Mentallo and the Fixer, Metroland, Mind:State, Mnemonic, Mondträume, Monolith, Nebula-H, Neikka RPM, Nitzer Ebb, Növö, O.V.N.I., Plastic Noise Experience, Pouppee Fabrikk, Prozium, Psy'Aviah, Razorfade, Recoil, Regenerator, Saeldes Sanc, Schwarzblut, Sebastian Komor, Seize, Sero.Overdose, Shaun F, Simon Carter, Siva Six, Star Industry, Stray, Studio-X, Suicide Inside, Tamtrum, Technoir, The Cure (tribute), The Psychic Force, Totem Obscura, Trisomie 21, Unter Null, Venal Flesh, Virgins O.R Pigeons, Virtual Embrace, XMH, Zombie Girl, … plus a long list of compilations.
And in order to save on shipping costs, it's recommended to combine this with the label's newest releases although they are not discounted. The newest releases from the label come from the bands Underviewer, Front 242, Mondträume, The Psychic Force, Llumen, Kant Kino, Daniel B. Prothesesèse and many many more!