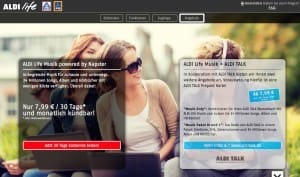 Aldi, a leading global discount supermarket chain which is active in 18 countries, has launched Aldi Life Musik, a new streaming platform. For the 7,99 Euro/month service – which is for the moment only available in Germany, where the company is based – Aldi collaborates with Napster. Via this streaming partner Aldi Life Musi can benefit from a music catalogue counting over 34 million songs.
The Aldi Life Musi service will launch with a 30 days free offer so interested consumers can check it out. Users will be able to listen to preloaded playlists or create their own playlists and use an offline modus too. Of course it will run both on desk/laptop and mobile phones and tablets. Special combo packets have also been arranged with their Aldi Talk mobile cards.
With this new product Aldi wants to reach the younger public which it so far has not been able connecting to. Vouchers will be available in all 4250 German Aldi stores while transactions will be handled via Paypal, Visa and MasterCard.
It's yet unclear if Aldi will launch the service in the other countries it's active in being Australia, Austria, Belgium, Denmark, France, Great Britain, Hungary, Ireland, Luxembourg, Netherlands, Poland, Portugal, Slovenia, Spain, Switzerland and the USA. But if the packages with Aldi Talk are an indicator then you might expect it to launch in those other countries where it has a mobile virtual network operator: Belgium, the Netherlands, Australia (where it is using Telstra's 3G network and is called ALDImobile).