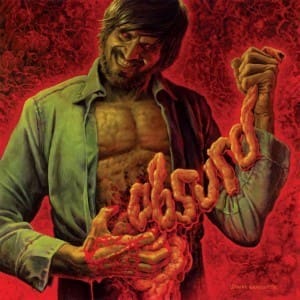 Out via the Death Waltz/PentaMusic labels in 2 weeks from now (you can order the vinyl version right here) is another cult classic soundtrack from the video nasty era, namely the soundtrack from Joe D'Amato's "Absurd" as composed by Italian musician Carlo Maria Cordio. The record's 22 tracks include the full remastered score as well as cues composed by Cordio for the 1982 splatter movie "Pieces".
The double vinyl release, the first in a planned series with Italy's CAM Records, comes in a gatefold sleeve with cover art by Wes Benscoter and embossed intestines. Yep, we are not kidding.
"Absurd" is a follow-up (a 'non-sequel' to many though) to "Antropophagus" and became one of 39 titles to be successfully prosecuted under the UK Obscene Publications Acts in 1984. It was released in 1980s in the United States as "Monster Hunter" by Wizard Video.
The plot involves a near invincible man known as Mikos who goes on a killing spree.