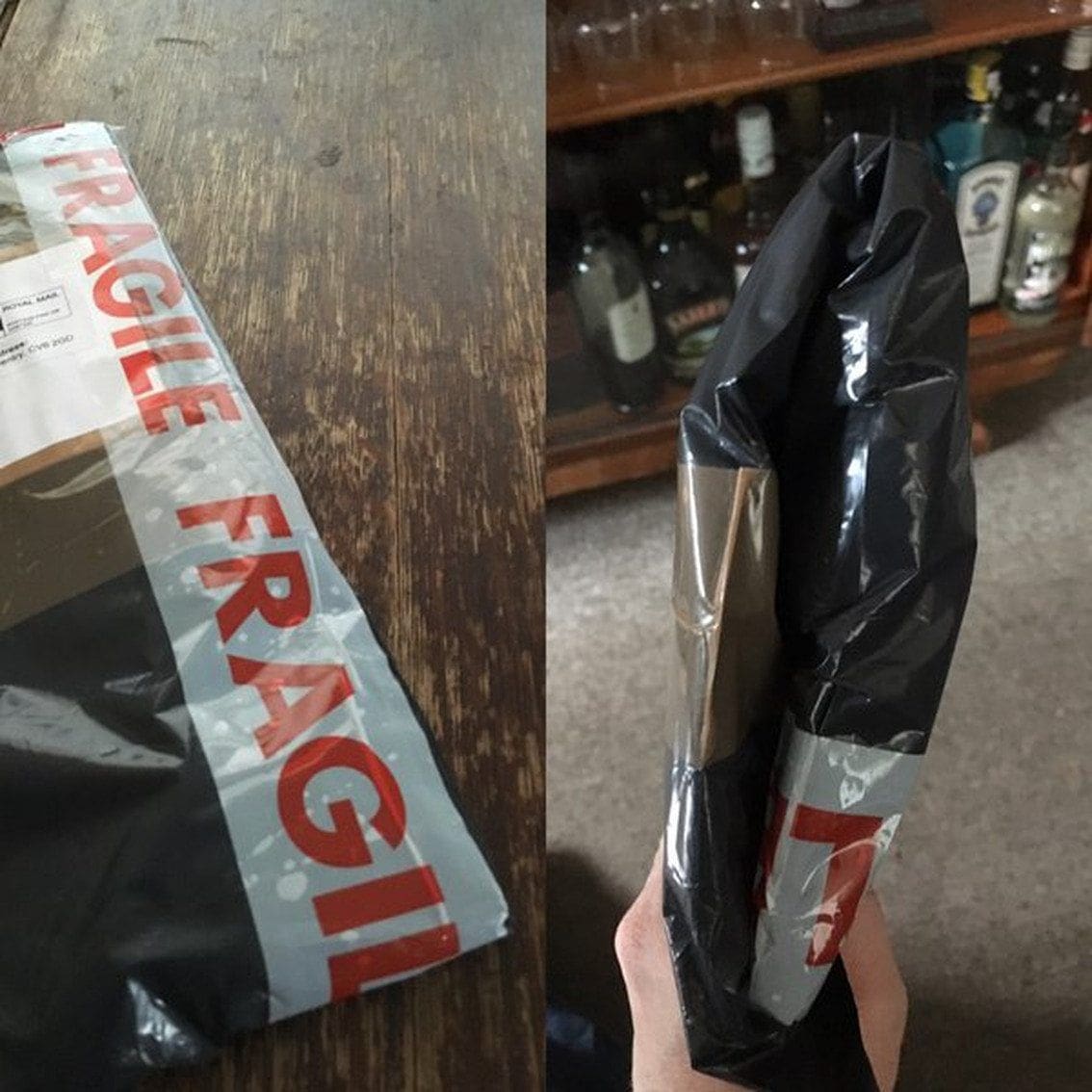 Digital strategy consultant Sharon O'Dea has had a rather 'record-breaking' experience with the Royal Mail. When she came home from work on May 11th, yesterday that is, she noticed that the Royal Mail postman had been through quite some effort to get her parcel through the letterbox. Her parcel, a vinyl record (which one is still unclear), was folded in half!
After she tweeted about it, the rather funny story quickly got the media interested. Soon Metro journalist Alison Lynch jumped on the story and got O'Dea on the phone: "It's actually a record my husband ordered. It was on the doormat when I got home last night. He's something of a vinyl junkie so he was livid when I told him. It had fragile tape all over it AND the name and logo of the sender, a record shop, on the front. (…) I'm often amazed by what the postman manages to squeeze through our quite small letterbox – on one occasion a Boden parcel containing three jumpers – but this was just ridiculous as it was very obviously a record."
Truth to be told, the social media people at Royal Mail did respond the next morning and are in the process of finding a solution. In the meantime O'Dea slashed another parcel service, Yodel by tweeting out: "@RoyalMail if I wanted my stuff smashed up by idiots I'd have used Yodel." To which a Yodel social media rep. replied: "@sharonodea Hi Sharon, could I be of any assistance with a past parcel with us? I'd like to look into this. Thanks, Hailey". Funny times on Twitter indeed.
Here's how the story developed on Twitter:
Wow. @RoyalMail folded a record – labelled 'fragile' – in half to get it through the letterbox. pic.twitter.com/OzAcFGeUFO

— Sharon O'Dea (@sharonodea) May 11, 2016
@RoyalMail@sharonodea would it be rude to ask what was the record?

— Dave O'Grady (@daveGildedALM) May 12, 2016
@sharonodea Oh dear! Hope it wasn't too expensive? Would love to write about it for Mirror Online – could you follow me so I can DM you pls?

— Nicola Oakley (@nicolajoakley) May 12, 2016
@sharonodea This is unbelievable. Would love to speak to you about it for https://t.co/aR0Zg4iGlv – could you follow so I can dm?

— Alison Lynch (@Aliaboutfashion) May 12, 2016
@sharonodea Hi Sharon. We're really sorry about thee damaged item. We want to help deal with this for you. In order to do so,

— Royal Mail (@RoyalMail) May 12, 2016
@sharonodea@Documentally "Royal Mail customers continue to experience record-breaking service" (sorry…)

— Taras Young (@tarasyoung) May 12, 2016
@RoyalMail if I wanted my stuff smashed up by idiots I'd have used Yodel.

— Sharon O'Dea (@sharonodea) May 11, 2016
@sharonodea Hi Sharon, could I be of any assistance with a past parcel with us? I'd like to look into this. Thanks, Hailey

— YodelRecruit (@YodelRecruit) May 11, 2016