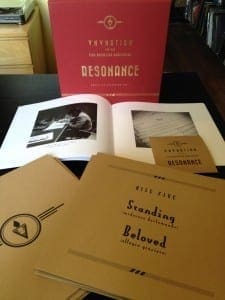 This morning we caught a first glimpse of how the upcoming 6x vinyl/CD "Resonance" VNV Nation boxset looks like. The set is almost sold out now, but our mail-order partner informed us that they have secured 60 extra copies, so make sure to order yours right now because they won't be available forever.
Years in the planning, the album features many of the best known VNV Nation songs, performed purely with an orchestra (the Babelsberg Film Orchestra) and voice. No other studio instruments were used as the goal was to be as authentic as possible.
The boxset contains 6 x 10″ vinyl discs, plus the CD of the album and a 32 page book. All this is coming packed inside a heavy hardcover box with gold print. The vinyl edition also contains the exclusive bonus-track "If I was" on the 6th 10″ Vinyl. You can order this boxset right here, the normal CD version can be bought here.
Below is a preview of the album.