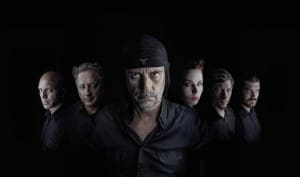 Laibach's recent "Spectre" Digital Deluxe Album was released in April via iTunes (direct link to the product) including the original album plus bonus tracks and "Spectremix", an album of remixes. Out now is the brand new video for "See That My Grave Is Kept Clean", taken from "Spectre".
Directed and re-edited by Tomislav Gangl, the video for their cover of Blind Lemon Jefferson's 1927 track, features shots from Dziga Vertov's "Enthusiasm", Maša Jazbec's "First Blood", Laibach's live in Križanke, Ljubljana, 2014 and Breda (NL).
Laibach embarks on a North American tour, their first in nearly 10 years, on Monday, May 11th. The dates start in Washington, DC and continue into June. You can buy your Washington DC, New York, Toronto, Indianapolis, Ohama, Portland and San Francisco tickets right here.
In related news, the limited edition vinyl picture disc of "Neu Konservatiw" is now close to being sold out. There are a few copies remaining, get yours here.
Here's the new video.