Vaping Organic – Is Organic E-Liquid Better For You?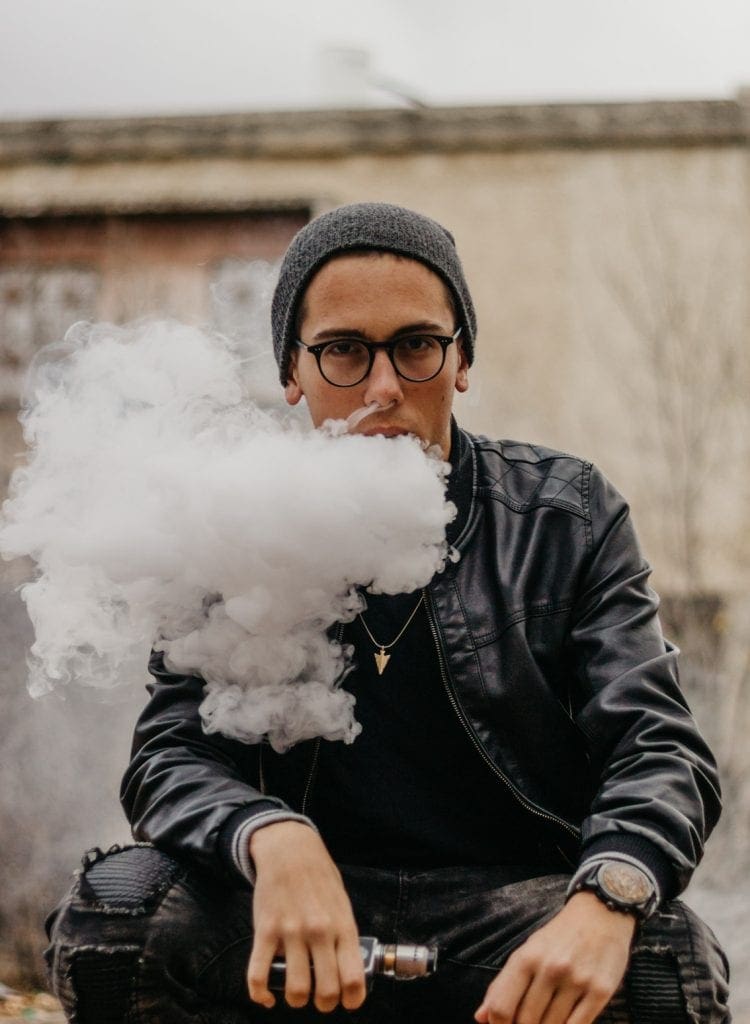 Itay Kabalo
You started vaping for a reason. Whether you were a former smoker that decided it was time to kick those nasty cigarettes, or a hobbyist vaper that just really enjoys the sensation of vaping your favorite flavors, harm reduction is always in our minds. With more e-liquids on the market than ever before, how do you choose an e-liquid or other electronic nicotine delivery device that is going to maximize your enjoyment while keeping harm to your body at a minimum?
Being vapers ourselves, we decided to delve into the world of organic e-liquids. Through our research, we found several companies that use terms like "organic" and "made with organic ingredients." But, what does it mean to be truly organic? Furthermore, once you find one that is really organic, is it going to be any safer or cleaner than its conventional counterparts? Are there benefits outside of safer or cleaner? What other considerations are there when deciding if organic is right for you?
What Does It Mean To Be An Organic E-Liquid?
In recent years, a handful of companies have entered the retail space promoting organic e-liquids.  So you are not deceived by false marketing tactics, it's important to understand what makes a vape juice organic.  Before we get into the specifics of organic e-liquid, it's important to understand what it means to be certified organic.  As stated by USDA, "Organic is a labeling term that indicates that the food or other agricultural product has been produced through approved methods.  Overall, organic operations must demonstrate that they are protecting natural resources, conserving biodiversity, and using only approved substances."
Luckily, the USDA now certifies e-liquid manufacturing operations, making it easier to decipher true organic vape juice from imposters. Under their National Organic Program (NOP) guidelines, e-liquid companies can receive USDA organic certification through a stringent application process, which includes meticulous record-keeping requirements and annual inspections. As of now, there are only two vape juice companies that have earned the USDA certified organic seal – Essence Vapor and Virgin Vapor). If you don't see the USDA organic seal on your bottle, it's most likely not truly organic e-liquid.
If you still aren't sure that a company's claims are accurate, ask them for their organic certificate. Remember that you are the customer – don't be afraid to contact them and ask to see documentation to prove it's actually an organic vape juice. If the company is representing their e-liquids honestly, they shouldn't have any problem sending you a copy or directing you to the certificate's location on their website. Of all the "organic e-liquid" claims we came across in our research, only Essence Vapor, based in Southern California responded immediately to us with a copy of their USDA organic certification.
What Ingredients Are Allowed in USDA Certified Organic E-liquid?
Ingredients can also tell you a lot about whether a company's ingredient claims are legitimate.  In the United States, the certifying authority to determine whether a product is actually organic is the USDA.  Under the USDA's NOP mentioned above, certain ingredients commonly found in e-juice are not certifiable. Here's a list of ingredients that are good indicators to look at when deciding which e-liquid is right for you.
Propylene Glycol – Not Organic
Roughly 80% of vape juice currently on the market utilize PG (propylene glycol) in their formulations. A derivative from petroleum, propylene glycol is a synthetic chemical that has drawn much controversy in the vaping community. The most common reason PG is utilized in vape juice is as a flavor carrier. PG bonds to the tissues in the mouth, throat, and lungs, essentially coating them in the mix. That doesn't sound very appealing from a harm reduction standpoint. In fact, under the USDA's organic program, PG is a prohibited item and cannot be certified organic. If you see an e-liquid that contains PG and claims to be organic, that is a major red flag.
Vegetable Glycerin – Can Be Organic
On the other hand, VG (vegetable glycerin) is commonly regarded as a much cleaner alternative. Not only can it be used without PG added, but it produces much more vapor than PG, creating bigger, thicker clouds.  Vegetable glycerin can be certified organic and is derived from one of three common plant sources; flaxseed oil, soybean oil, or palm fruit oil. VG that is certified organic cannot be derived from genetically modified soybeans, so you'll be free from ingesting GMOs while inhaling an e-liquid from a USDA certified organic manufacturer.
Artificial Sweeteners – Not Organic
Another telltale sign that your vape juice isn't really organic is the use of artificial sweeteners.  Companies will add large amounts of sweeteners to mask, sweeten, and modulate flavors, but most sucralose and sucrose contained in conventional e-liquids is most commonly a GMO variant.  While the long term effects of consuming GMOs is not yet known, the general consensus is to avoid them when possible. Additionally, synthetic sugars like sucralose, and sucrose containing genetically modified ingredients, cannot be certified organic under the National Organic Program.  Good flavor chemists will tell you a good e-liquid flavor shouldn't need sugar to produce good flavor. After sampling several popular e-liquids head to head, we agree with this statement.
Other Considerations When Deciding If Organic E-Liquid Is Right For You
Sugars/Sweeteners Also Cause Coil Gunk!
E-liquids or "nic salts" that contain sugars are also very hard on your coils.  As sugar is heated up by the coils on your device, sugars are crystallized and hardened.  Think of it like cooking with sugar – excessive heat (similar to levels produced by your coils) burns the sugar and creates a dark gunk that sticks to the cooking surface.  This is exactly what happens in your RDA or tank with many non-organic e-liquids that contain high levels of sucrose or sucralose. Sugar-free e-liquids save you time and money on replacing coils that are gunked up with burnt sugar and contaminants.
Allergies to PG/Sweeteners
In recent years, there have been countless reported cases of vapers suffering from allergies to PG and artificial sugars like sucrose and sucralose that conventional e-liquids often contain.  Common symptoms with PG allergies are shortness of breath, excessively dry throat and mouth, and nose bleeds. When inhaled, sucrose and sucralose have been reported to cause stomach cramps, nausea, and fatigue.  If you have any of these symptoms while vaping, making the switch to a cleaner, certified organic e-liquid might be a good idea.
Is Organic E-liquid Safer for the Environment?
There's probably something else you haven't thought of with organic vape juice – sustainability.  More consumers than ever are looking to put their money where their mouth is in regards to the environment.  Think about it – E-liquid flavors come from agricultural crops. Plants that are grown with chemical fertilizers and pesticides are creating big problems for the environment.  If an e-liquid displays USDA certification, the flavors they are using have come from a sustainable source. By choosing to vape a certified organic e-liquid, you have peace of mind knowing that you are helping to make a positive contribution to the planet.  You chose organic food, why stop there?
The Impact of Disposable Pod Systems on the Environment
It should also be noted that disposable pod systems (none of which are organic) are having massive implications on plastic waste pollution. Pods like the popular Juul might be convenient to use, but they are generating huge amounts of plastics that can't be recycled. If you are someone that cares about the environment, these options probably aren't the best when compared to e-liquid alternatives that are packaged in recyclable containers. Both USDA certified organic options we found utilized glass and/or recyclable plastic containers, which can help to lessen the impact on the environment.
So, What's The Verdict?
While we can't claim that vaping organic e-liquids is really any safer, we do think that ingesting a cleaner e-juice – free from PG, artificial flavorings, added sugars, genetically modified organisms, and pesticides is probably a smart move. Furthermore, a USDA certified organic e-liquid manufacturer gives you peace of mind. Knowing that a company has passed the USDA's strict set of guidelines speaks to the quality of their products. As an added bonus, using organic e-liquids free from added sugars are going to prolong the life of your tanks and builds, giving you more time to enjoy those delicious e-liquids! With excellent options coming from certified manufacturers, why bother with chemicals? As the saying goes – garbage in, garbage out!

Since you're here …
… we have a small favour to ask. More people are reading Side-Line Magazine than ever but advertising revenues across the media are falling fast. Unlike many news organisations, we haven't put up a paywall – we want to keep our journalism as open as we can - and we refuse to add annoying advertising. So you can see why we need to ask for your help.
Side-Line's independent journalism takes a lot of time, money and hard work to produce. But we do it because we want to push the artists we like and who are equally fighting to survive.
If everyone who reads our reporting, who likes it, helps fund it, our future would be much more secure. For as little as 5 US$, you can support Side-Line Magazine – and it only takes a minute. Thank you.
The donations are safely powered by Paypal.