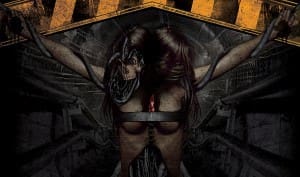 Insane Records and Terror Night radio show are starting work on the second part of the self-titled compilation.
Says the label: "The compilation has passed a thorny way but it has managed to obtain hearts of many dark scene fans. It has made us continue to develop Terror Night compilation product range. The CD has resulted to be quality and interesting but we are not going to be complacent. We plan to release a new part of the compilation annually. It's not a secret that we haven't managed to succeed in everything we've planned for the first part of the compilation due to different problems coming up during the process of creating "Terror Night Vol.1 Industrial Madness", but this time we will take into account reviews and criticism from different publicists and listeners… The compilation's consistence will expand its boundaries by new names and genre variety. Moreover, it will be much less "repetitive". All of these must make the new compilation an absolutely out-of-the-box release."
You can participate in this project, original tracks are preferred. Filling the participation request is easy, just follow the terms below. The track must be a completed composition put into a .rar archive. The archive must include the following:
The mastered track in .mp3 format
The unmastered track in .wav format. (No dynamic processors on master section)
Sample rate not more than 44.1 kHz
Bit depth not less than 24 bit
Besides, the archive must include the following information for the booklet:
Text file with lyrics
Text file with legal information
Send the finished archive to terrornight@insane-records.com putting in the name of your project as a topic. Deadline: December 1st 2015.
All participants are asked to be ready for the basic conditions of taking part in the compilation:
The track mustn't be flashed in the web until the release of the compilation
The track mustn't be released elsewhere until 1 year since the compilation has been released
Marketing license for selling a digital version of the track from the compilation at www.insane-records.com and insane-records.bandcamp.com