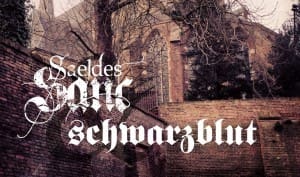 Out now is "Virginis Memoriae", a brand new 2-track split-single uniting Saeldes Sanc and Schwarzblut. The Medieval-Gothic Folk Ensemble Saeldes Sanc is the solo-project of Hannah Wagner who is also known for her vocal work with Helium Vola together with Ernst Horn (Deine Lakaien).
Next to a Schwarzblut remix of the older Saeldes Sanc track "Virginis Memoriae", Schwarzblut also present a new song from the recording sessions of their forthcoming 4th studio album.
The 2-track single is available for download now from Bandcamp (iTunes, etc. will follow in the next days). You can check out the single below.