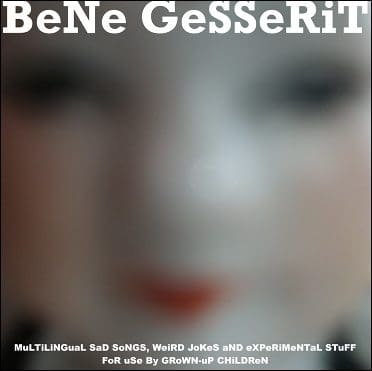 2 new records and one compilation appearance featuring the music by 2 projects by Belgian industrial pioneer Alain Neffe have been released. The first is the release of Pseudo Code's "Europa" on vinyl LP. The content is the same as the original, except that "Les microbes de Dieu" has been replaced by "Back to the waters" originally released on a rare picture disc on Stratosphere, Japan. The change was done because of legal problems with the family of writer Antonin Artaud. The record itself is pressed on thick green translucent vinyl. Only 400 copies have been made and will be sold via www.subrosa.net , the label founded by Guy-Marc Hinant. Hinant was also a member of Pseudo Code.
Next is the BeNe GeSSeRiT release "Multilingual sad songs, weird jokes and experimental stuff for use by grown-up children" (see cover artwork above) which also sees a release on vinyl. It features 9 rare songs from the 80's and 6 brand new songs. This LP has been pressed on 300 copies. You can order it soon via www.feedingtuberecords.com . Finally, there is a BeNe GeSSeRiT track featured on a compilation CDR which raises money for a great alternative radio in America; the song is new and unreleased. Contact [email]tonyclt@aol.co[/email] to get hold of the compilation.
BeNe GeSSeRiT started producing industrial pop back in the 80ies and consists of Alain Neffe (B. Ghola, music) and his wife Nadine Bal (Benedict G, vocals). She was also the old manager for Pseudo Code, which consisted of Xavier Stenmans, Alain Neffe and Guy-Marc Hinant. The first release for BeNe GeSSeRiT was a cassette with a "Best Of". The band presented themselves to the press as being swiss with a fake bio.