Click Interview with Korinthians: 'It Really Makes No Sense To Put People In Boxes'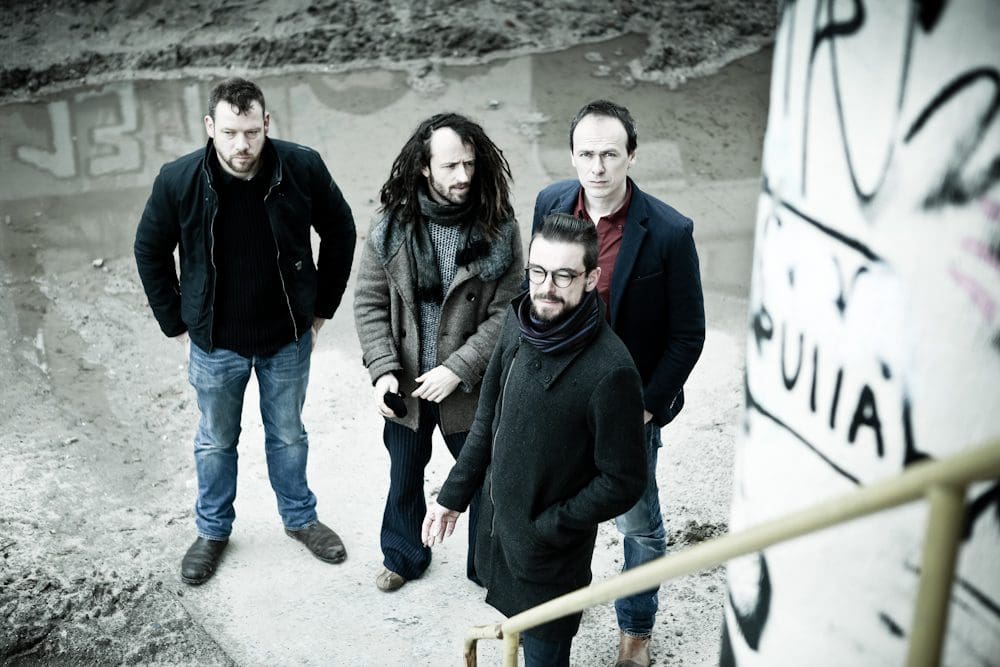 Korinthians is a Belgian formation from Ghent. The band name refers to the Corinthian people in antiquity. The band comments: 'They were called barbarians by the Athenian elite, but actually they had a very egalitarian society. They tossed out their kings and ruled as a group. They gave women a prominent role in decision-making. And then you have the Letter to the Corinthians in the Bible, which many know as an ode to love. But it also contains a series of guidelines to the women in Corinth. That they should wear a veil, and pray, and are not allowed to speak up. Isn't that ironic?' In that case, Korinthians prefer to be barbarians of Corinth. After having released a promising debut album "Chaos Control" in 2020 they this year stroke back unleashing "A Major Walk". This self-released new opus sounds as an offspring between different music genres like Post-Punk, Electronics, Indie-Pop/Rock, Cold-Wave… but as Mattias (vocals & guitar) and Kenny (drums) say:
(Courtesy by Inferno Sound Diaries)
Q: Who's hiding behind Korinthians and what's your musical background and eventually references when it comes to song writing?
Kenny: I was always a rock drummer. I had no background in the genre whatsoever. To not mess things up, I try to play as little as possible, which is always a good thing in the end. Plus, when I'm with other drummers discussing their gear and chops and shit, I honestly think I'm not a real drummer. When you add those things up, I get something that seems to work just fine for the band. When it comes to songwriting, I stay away from the lyrics as far as a can, but do my part when it comes to the arrangements. I know a good synth hook when I hear or play it, and I've been known for throwing out a verse or two to keep the song short and sweet, or, in case of the previous record, making Mattias play five-minute guitar solos.
Mattias: I suppose I am the songwriter of the band. As all four of us, I wasn't 'born' into 80s music. I think we're all kids of the 90s, really, which meant that we grew up with the sound of overdriven guitars, rather than analogue synths. I got into the music much later, when I discovered bands like The Soft Moon, Agent Side Grinder, Linea Aspera And Boy Harsher. Also acts outside of the genre are an inspiration, such as Mogwai, Goose, Kite and M83. In terms of song writing, I went from doing straightforward hardcore riffs in the 90s, to being in awe of compositions with many layers –Electric Light Orchestra, was an example for some time.
Q: Interesting to read you claim to be 'children of the 90s' as your music still sounds 80s Post-Punk-like with a catchy Electronic touch on top. What is it really all about?
Mattias: We definitely do not confine ourselves to the genres of Wave or Post-Punk. I spoke to a music journalist recently who declared himself a 'fake goth', since he liked so much music outside of the genre. To some extent, I identify with that term. Personally, I've never liked being put in one category. And I think that for the Post-Punk and Goth scene, which distances itself from the dominant Pop culture, it really makes no sense to put people in boxes.
Q: What's the usual procedure to write a song?
Kenny:In terms of songwriting, the procedure has changed dramatically during the pandemic. Nowadays, Mattias brings his Ableton creations to the rehearsal, and then there's three scenarios. One, we think it's crap, don't say it out loud, but waste a rehearsal to let Mattias notice for himself. Two, the composition is totally perfect and we have a new song within minutes. Three, I or someone else ends up re-arranging the song in Cubase or something, and Mattias approves, or not. Then of course, when we play through the song during rehearsals and each band member cleans up their parts. We also try to take the songs to the stage asap, to see how the audience responds.
Q: How do you perceive the evolution from your debut album "Chaos Control" towards "A Major Walk"? Did you want to improve and/or change certain elements of the production?
Mattias:I think it's very clear that this is a much more synth-driven album. Contrary to our debut album, on "A Major Walk" the guitar is subservient to the overall sound. Often guitar play is limited to an eerie Post-Rock tune.
Overall, the album also sounds a bit more Electronic, something we've trying to do from the start; play music with a classic trio of instruments (acoustic drums, bass, guitar) and then add synths and samples, so it starts to sound more Electronic. I didn't realize until after the record was finished, but it also contains a lot of straightforward, punchy songs. Dance music, really.
Q: The lyrical content of your work clearly reflects a darker side and/or -perception of our society. Where does it come from and what did you try to express and maybe exorcize?
Mattias:I don't necessarily intend to write dark and brooding lyrics. I guess that is what happens spontaneously when I write. What I usually do is writing one specific scene and develop lyrics from that. For instance, for a new song we're working on, I use a snippet of a newspaper article I found a while back, talking of a newborn baby found dead in the dunes of the Belgian coast. I imagine what it must be like to give birth to a baby, all alone, crying, bleeding. And leave it behind. In "No Future", our latest single, I describe the scene of a guy sitting in his house, smoking cigarette after cigarette, watching the news, while the ground floor is on fire. And he stays where he is. Sometimes I write something which comments on broader social issues, but usually it's just about a compelling story.
Q: How would you define Korinthians as a live band and how do you transpose the songs from the studio to the stage?
Kenny:I would certainly define Korinthians as a live band. The songs are created during rehearsal with the instruments we have, and all of the songs have been played live many, many times before we end up recording them. And during recording, we try not to go overboard with overdubs and stuff. Firstly, because we cannot afford to go overboard with anything during expensive studio time, and secondly, we also can't afford to hire additional musicians.
Q: Korinthians clearly seem to be a 'Do It Yourself' band. Is it a deliberate choice you made or just because there has been no interesting label deal so far? How do you manage all different aspects of being 'independent'?
Mattias:Well, it's not that we oppose the idea of having a label. But I've come to realize that I like to control as much as I can the artistic and commercial process. That means, indeed, that you're keeping a lot of balls in the air. You write songs, you record them, you make art work, you make music videos, you launch online promotion campaigns, you release albums and singles, you write press sheets and send them to journalists, online magazines, labels and whatnot, you reach out to other bands, venues and promoters, you make dedicated merchandise and offer it to your audience, you send parcels all over the world from sales on the band website.
Running a band is hard work. On the other hand, it's wonderful to have gathered around us a group of people who believe in us; our sound guys Björn and Bart, William at Sonic Rendezvous, our distributor, Malcolm Nix our booker and tour manager, Klaas at RUZD who has been doing a lot of our artwork and design lately. We couldn't do what we do without their quality work and their dedication.
Since you're here …
… we have a small favour to ask. More people are reading Side-Line Magazine than ever but advertising revenues across the media are falling fast. Unlike many news organisations, we haven't put up a paywall – we want to keep our journalism as open as we can - and we refuse to add annoying advertising. So you can see why we need to ask for your help.
Side-Line's independent journalism takes a lot of time, money and hard work to produce. But we do it because we want to push the artists we like and who are equally fighting to survive.
If everyone who reads our reporting, who likes it, helps fund it, our future would be much more secure. For as little as 5 US$, you can support Side-Line Magazine – and it only takes a minute. Thank you.
The donations are safely powered by Paypal.