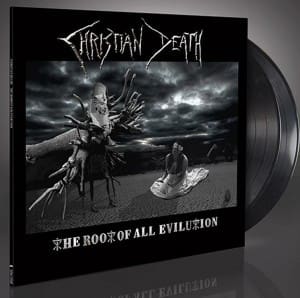 Up now, and available for listening below, is a first new track from Christian Death's forthcoming album "The Root Of All Evilution", the track "Illuminazi". The 10-track album "The Root Of All Evilution" is scheduled for worldwide release on vinyl (silver and black) on the 16th of October (both version are available here – but be fast, there are only a few copies remaining) and is their first studio album effort after an 8 year hiatus following the release of "American Inquisition" (2007).
Here are some direct links to the vinyls: black vinyl and silver vinyl.
Christian Death will be headlining the "Hell Nights" tour in Germany with The Other, Nim Vind, and Argyle Goolsby and The Roving Midnight , which will be immediately followed by more European shows.
The line-up of Christian Death anno 2015 is Valor Kand (vocals, guitars, violin, strings, keyboards), Maitri (vocals, bass guitar, keyboards) and Jason Frantz (drums). More info at www.facebook.com/christiandeath .