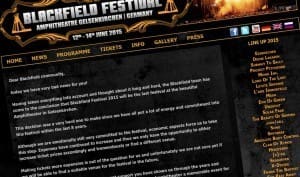 The Blackfield team has announced that the Blackfield Festival 2015 will be the last festival at the Amphitheater in Gelsenkirchen.
In a message on their website they say the following:
This decision was a very hard one to make since we have all put a lot of energy and commitment into this festival within the last 8 years. Although we are emotionally still very committed to the festival, economic aspects force us to take this step. Expenses have continued to increase and thus we only have the opportunity to either increase ticket prices accordingly and tremendously or find a different venue. Making tickets more expensive is out of the question for us and unfortunately we are not sure yet if we will be able to find a suitable venue for the festival in the future. We would like to thank all of you for the great support you have shown us through the years and make the last Blackfield Festival from 12. – 14. June 2015 at the Amphitheater a memorable event for you and our artists.
Performing this year at Blackfield will be such bands as Mesh, Project Pitchfork, Deine Lakaien and so on.