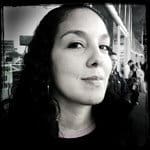 Elise Din
I started working for Side-Line around 7 years ago, writing reviews and doing interviews. For 3 years now I have also started writing articles on subjects that I think are important. For some reason it's always articles which the other editors consider tricky or politically incorrect. :) So far, so good, Side-Line has given me the freedom to post whatever I want, provided I inform them on what I want to write about.
I also help out Bernard with cleaning out his mailbox, and from time to time I trash news that shouldn't be trashed, but that's the risk of giving me access I guess. When bands or labels complain, it often has to do something with me lol.
Apart from Side-Line I travel a lot and love cooking, just like my colleague Vivi Ball.