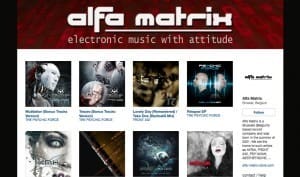 It's back catalogue time at Alfa Matrix. The label has announced that they now have added 99,99% of their back catalogue material online in the past few days. Says the label: "Over the past 2 years Alfa Matrix has been releasing all new releases via Bandcamp too. But a lot of our back catalogue material wasn't on there. Today this has changed, as we have now added 99,99% of our back catalogue material online, straight from the master tapes."
The latest additions (around 40 in total) include several sold out releases such as (sold out) albums from Implant, Metroland, Kant Kino, Nebula-H, amGod, Mentallo & The Fixer, Regenerator (including a Front 242 remix) and lots more! The complete list can be found below.
DO NOT FORGET: Alfa Matrix has also issued a 25% reduction code for September: september5236584 (use it when checking out on Bandcamp).
The list of releases that have been added: