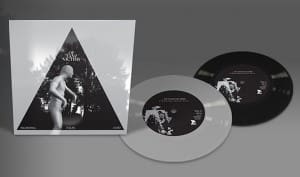 Fresh news from Artoffact, the Montreal-based industrial project Of Tanz Victims will reissue their debut 7″ vinyl "Fighting False God" on the Canadian label in September. The 30 year anniversary version of the single will come in a remastered and redesigned edition with a new cover photo, while paying tribute to the original triangle-shaped design.
Included on the single, available here, are the tracks "Filth of God", "The Silent End" and "Tape Machine K". You can listen to "Filth of God" below. You'll encounter a grittier more industrial version of Skinny Puppy…
Of Tanz Victims formed in the early 1980s in St-Jean sur Richelieu, just outside Montreal and produced a string of vinyl and tape releases.